22nd Hot Air Balloon Fiesta
Do you have any plans this weekend? Yes? No? Perhaps the Philippine International Hot Air Balloon Fiesta (PIHABF) might change your mind.
Dubbed as "A Weekend of Everything that Flies," the PIHABF lets you watch or experience a ride in a hot air balloon this year. This will happen on February 8 to 11, 2018 at the Clark Freeport Zone in Pampanga City.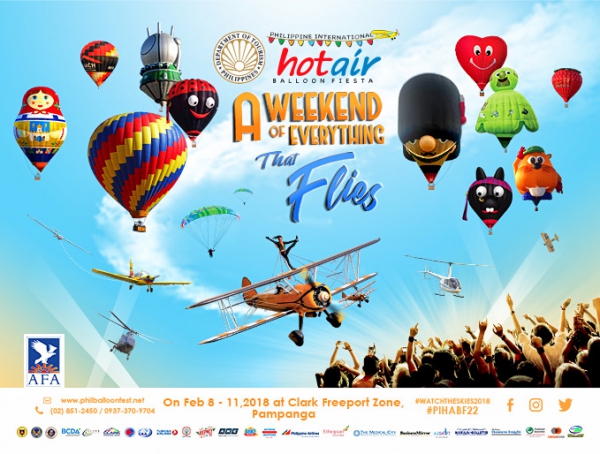 PIHABF gathers different aviators from the Philippines and the world to showcase hot air balloons in different sizes, shapes, colors, and designs. One of the most popular Pre-Valentine's day events, PIHABF is done yearly with the goal to attract various people, both local and international.
The fiesta was also established for people of different cultures and traditions to bond in one event. As for the foreigners and expats, they are given a taste of the Filipino hospitality. This beautiful event is also a way of advertising the Philippine tourism.
Together, let support the Philippine aviation industries in the international community! For more information visit their website philballoonfest.net or call 02-851-2540.
Details:
What: 22nd Hot Air Balloon Fiesta
Where: Clark Freeport Zone in Pampanga City
When: February 8 to 11, 2018
Tickets: www.ticketnet.ph