Nihongo Fiesta 2018
The Japan Foundation, Manila (JFM) in pursuit of its objective of promoting cultural exchange through Japanese Language Education in the Philippines, announces the Nihongo Speech Contest 2018 to be held on Saturday, 17 February (tentative – Shangri-La Plaza Mall, EDSA, Mandaluyong City).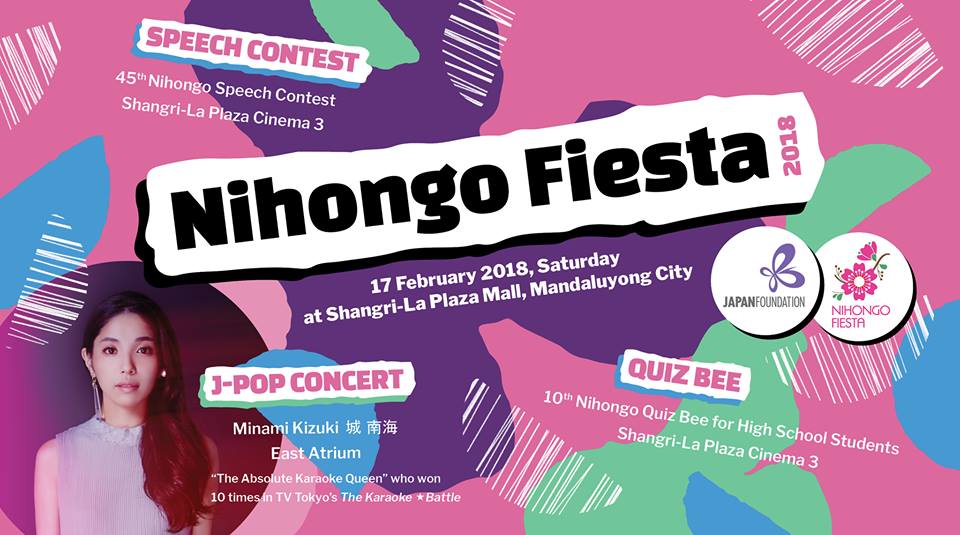 The speech contest, now in its 45th year, is one of the major events of the 13th Nihongo Fiesta. The event will feature live performances, Nihongo Quiz Bee, film showing, and a lot more activities related to Japanese culture.
The Nihongo Speech Contest is an ideal platform for Filipino students and professionals to demonstrate their linguistic skills through articulating an original composition written by themselves on a theme of their choice. It continues to attract high caliber contestants from the country's numerous language institutes, colleges/universities and other organizations offering Japanese language courses.
The Champion will take part in an all-expense-paid week-long study tour in Japan; all qualified contestants will receive consolation prizes.
For details/clarifications on the contest, other cultural projects/grant programs, and the Nihongo Fiesta activities, please contact The Japan Foundation, Manila – 23/F Pacific Star Bldg., Makati Avenue, Makati City (telephone # 811-61-55 to 58 and fax # 811-61-53; e-mail:email@jfmo.org.ph / website: www.jfmo.org.ph)
In consonance with the promotion of Japanese Language Education, a similar event will be held in Cebu City that will also serve as the regional pre-screening for the Final National Contest in Manila. The 16th Nihongo Speech Contest in Cebu will be held on Saturday- 3 February 2018 (tentatively at SM Conference Room AB, Cebu City) for inquiries on the submission of entries and other details, please contact the Japanese Association Cebu, Inc., 5/F Clotilde Commercial Center, M.L. Quezon St., Casuntingan, Mandaue City; tel. # 032-343-8066 / fax # 032-343-7663).
DETAILS
What: Nihongo Fiesta 2018
Where: Shangri-La Plaza Mall, EDSA, Mandaluyong City
When: February 17, 2018
Tickets: ADMISSION IS FREE
---
This is a press release. Minor edits were made by Philippine Primer editors.