Beauty Confidential: BDJ x Project Vanity Bootcamp
Beauty comes in different shapes and sizes and it is meant to be appreciated and celebrated.
In the modern age, about half of the population of the world are into makeup and skincare to improve themselves. This love month, beauty buffs and enthusiasts will be treated to a one-of-a-kind bootcamp through the partnership of Project Vanity and Belle de Jour.
Beauty Confidential: BDJ x Project Vanity Bootcamp is happening on February 11, 2018, at the Glorietta Activity Center in Makati City. In this event various workshops and seminars all from beauty experts in the country will tackle beauty How Tos, Dos and Donts, and more. Get the chance to learn basic and advance make up, day to night skincare routines, and other exciting beauty stuff!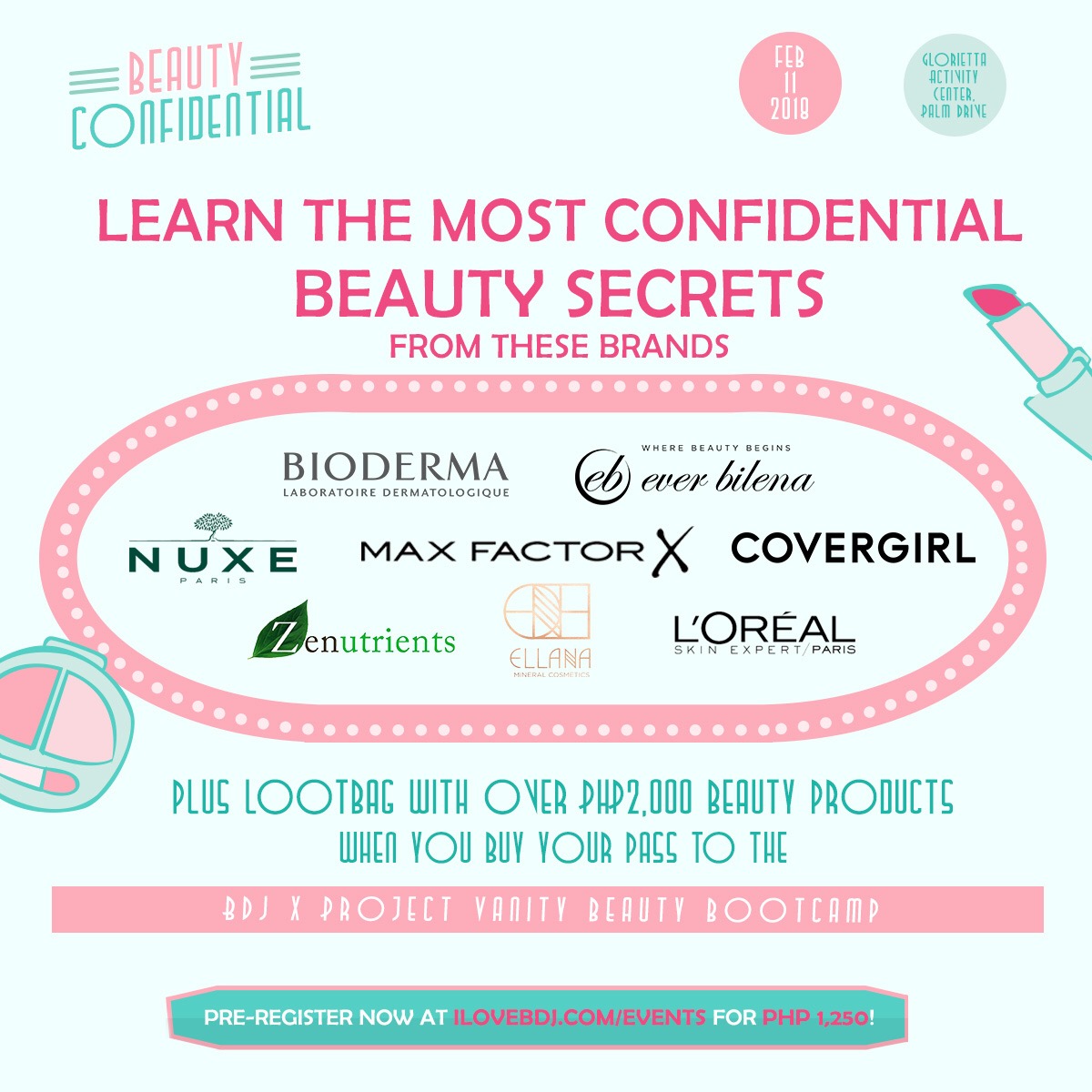 The ticket price is Php 1,250 and gives you access to two workshops/demos of your choice and a beauty loot bag worth Php 2,000.
Get beauty advice from the Project Vanity team and beauty bloggers during the event. Project Vanity will also be having a special booth of  their own beauty line In Her Element.
Beauty pros like makeup artists, brand founders, and dermatologists will also be present at the event to guide the attendees with their skincare needs.
What are you waiting for? Don't miss out on these sweet deals and sign up at ( ilovebdj.com/shop/beautybootcamp2018/) to know more about the newest trends in beauty-verse!
DETAILS
What: Beauty Confidential: BDJ x Project Vanity Bootcamp
Where: Glorietta Activity Center, Makati City
When: February 11, 2018
Tickets: ilovebdj.com/shop/beautybootcamp2018/
Website: http://www.projectvanity.com/