Manila Biennale: Open City 2018
Within the ancient walls of Intramuros, Manila, a major artistic transformation is now underway for the first time in its 400-year history. Nearly 100 artists from here and abroad will enter the gates of Manila's ancient walled city to exhibit works for the first Manila Biennale, happening this February 3 to March 5, 2018.

Heralded as the "first art experience festival in the history of the city", Manila Biennale will see Intramuros become a vast art exposition for sculpture, painting, video, film, performance, architecture, and installation. Carlos Celdran, artist, activist, and executive director of the event stresses the urgency and relevance of this artistic intervention, which has been going under the slogan, "Bring back the soul of the city."
"It's time to put the city on the show. Intramuros is the origin of our city's identity. The walled city was Manila's first depository and laboratory for art and science. Unfortunately, since it's destruction back in 1945, the walled city's relevance and history have been all but forgotten. I'm hoping that the Biennale will re-establish Intramuros' role in the development of our capital's culture and identity."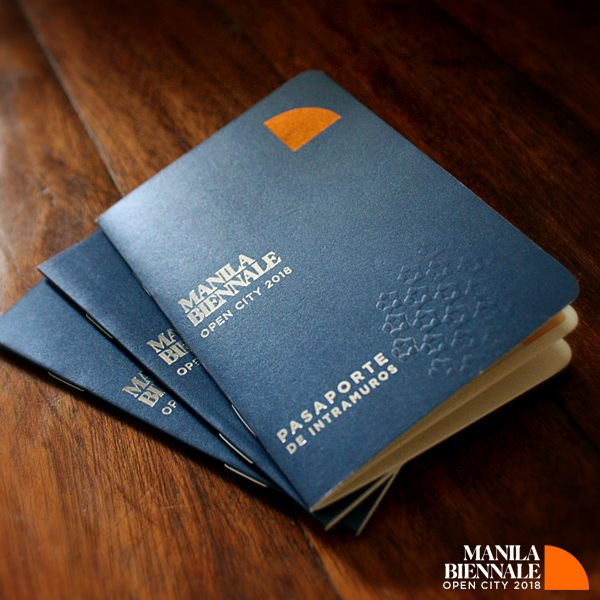 Manila Biennale: Open City Art Passport. It's the only thing you need to be a citizen of the Open City of Intramuros this February.
On sale starting February 3, 2018./IMAGE Manila Biennale's Facebook Page
Throughout the history of Manila since 1571, Intramuros has played colonial bastion, a military fortification, seat of government and religion, residential area, and as of late, a tourist attraction. This year, Intramuros' famous parks and gardens, as well as a newly constructed venue that has not yet been unveiled to the public, will play the new role of art exhibition space.
The theme of this year's festival is "Open City," which references December 26, 1945, a vulnerable period in Manila's history during World War II. The term open city takes on a new meaning today according to the creative interpretation of this year's curators and artists. "It may reference open minds, open dialogues, open markets, and any metaphor that connotes freedom of speech, freedom of thought, and the open exchange of ideas.
This is the first contemporary art biennale for the Philippines. The tradition of holding a biennale — which literally means "every other year"– was first conceived in Venice, Italy, in 1895. Several other cities have followed the Venice archetype since then, the most famous of which is the Whitney Biennale in New York City, the Sydney Biennale, Manifesta in Europe, and Dokumenta in Germany.
Details:
What: Manila Biennale: Open City 2018
Where: Intramuros, Manila
When: February 3 to March 5, 2018
Tickets: Click here
Website: Click here
---
This is a press release. Minor edits were made by Philippine Primer editors.