UNIMA Chinese Puppetry Groups at the CCP
The Cultural Center of the Philippines (CCP) is set to present a traditional performance of the UNIMA Chinese Puppetry Groups from February 8 and 9, 2018 at the CCP Tanghalang Huseng Batute (THB) (Studio Theater) at 7:00 pm.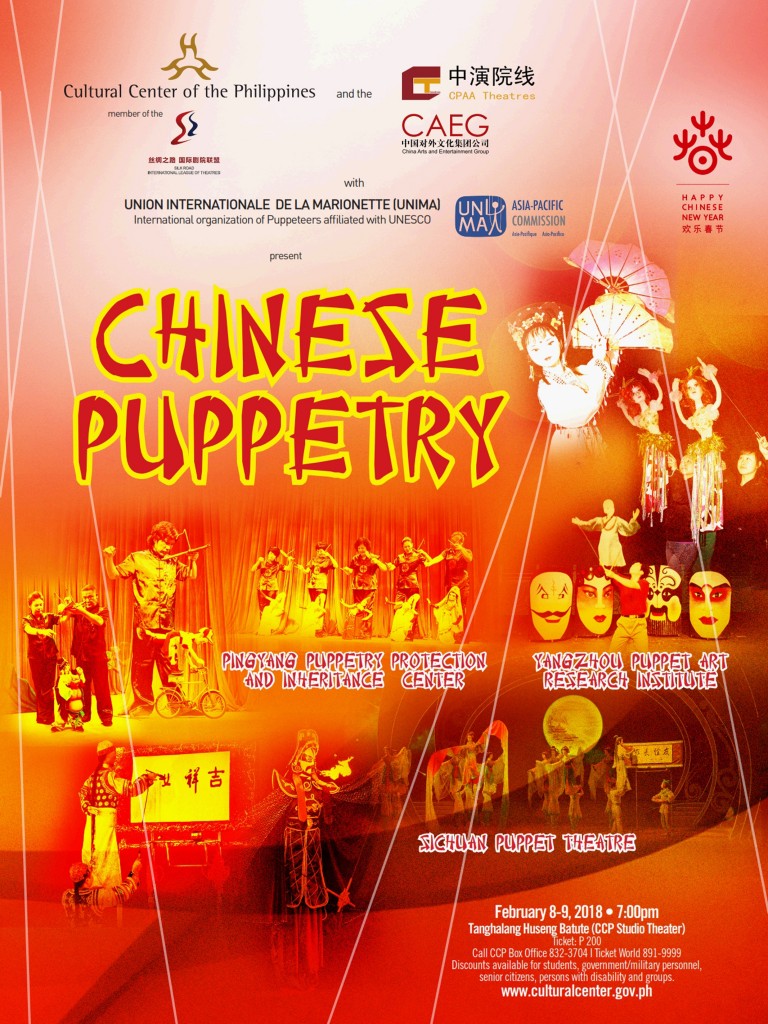 Three Chinese Puppetry Groups are set to perform in this show. The Yangzhou Puppetry Troupe is famous for its "forcefulness and softness, delicateness and expressiveness."  It is composed of national acknowledged senior, middle-aged and youth professional artists and a few professional puppet crafting and designing artists. The other one is the Pingyang Puppetry Protection and Inheritance Center, which has performed in Europe, America, Africa and Southeast Asia.  They have received over 30 national prizes and 300 provincial prizes and is one of the most influential contemporary string puppetry troupes.
Lastly, the Sichuan Huge Puppet Theatre is the only inheritance unit for the North Sichuan Huge puppet, the national intangible cultural heritage. It is a professional institute on research, safeguarding, inheritance, and development of intangible heritage in Nanchong City.  It has been recognized as the "Important Export Project of National Culture" by five Ministries in China and was highly praised during its visits to several countries and regions.
Local puppeteers and performing artists are invited to participate in a special workshop on February 10 from 1:00 pm to 5:00 pm at THB. The workshop has limited slots only on a first come-first served basis. Send advance reservation by calling the CCP Cultural Exchange Dept. at 832-1125 local 1708 or 1709.
DETAILS
What: UNIMA Chinese Puppetry Groups
Where: CCP Tanghalang Huseng Batute (THB) (Studio Theater)
When: February 8 to 9, 2019, 7:00 pm
Tickets: For ticket information, contact the CCP Box Office 832-3704 or Ticket World 891-9999.
Discounted tickets will be sold during the PASINAYA Festival on February 4.
---
This is a press release. Minor edits were made by Philippine Primer editors.