Unplug on January 20-21, 2018
Inhale and exhale. You only need a few seconds to relax and meditate especially when you're busy at work or in school. Professionals and students deserve a break; if you're feeling tense lately, perhaps Unplug is the workshop for you.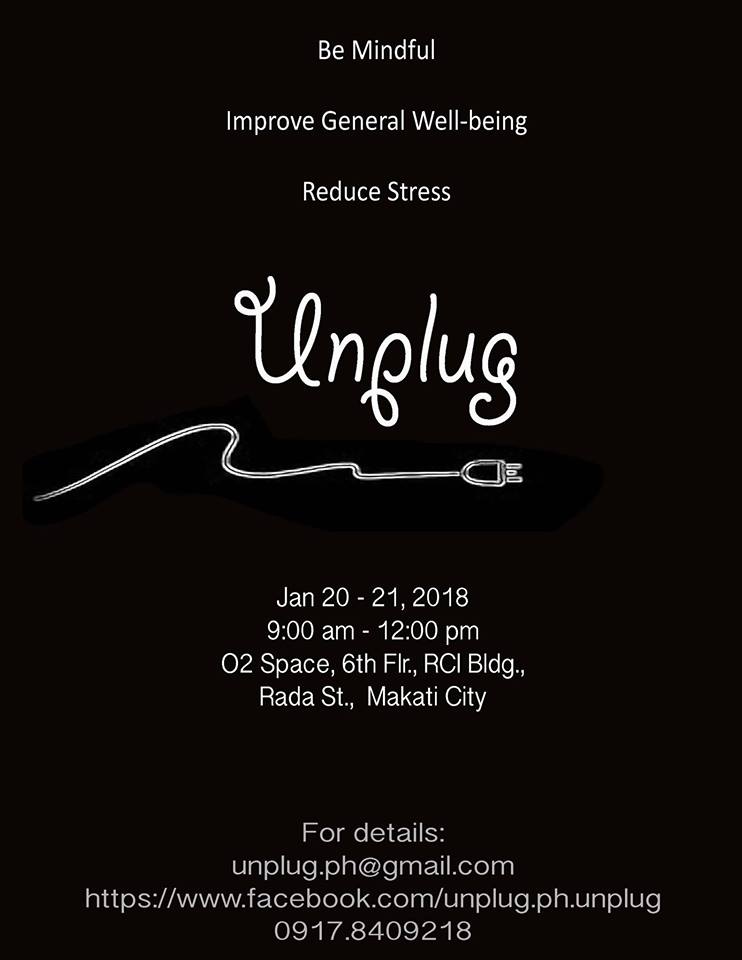 Unplug is a 2-day workshop on being mindful, reducing stress, and improving your general well-being through different variations of mindfulness and meditation.
On January 20 to 21, 2018, get some well-deserved solitude and peace with a workshop that lets you forget stressful events.
Join Dax Cobarrubias who is a yoga instructor, mindfulness teacher, and a corporate consultant. A Bikram Yoga Teacher since 2010, he deepened his craft after attending a week-long mindfulness retreat with Buddhist monks in Chiangmai, Thailand in 2012 and has expanded his classes to include Yin Yoga, a quiet and mindful practice to battle stress, as well as Mindful Leadership to the private and public sector.
Regular Rate = Php 5,500
Early bird rate until January 15 = Php 4,850 (includes coffee, snacks, and handouts)
Start the year right and reserve your seats now! You can register at https://goo.gl/f2w91F.
Details:
What: Unplug
When: January 20-21, 2018
Where: O2 Space, 6th Flr, RCI Bldg., Rada St., Legazpi Village, Makati City
Tickets: https://goo.gl/f2w91F