KPOP Summer Showdown 8
Hallyu Events Philippines brings you a fun early summer event with K-POP Summer Showdown 8. This isn't just an ordinary event, it's an event where challenges are made by your favorite cover groups to go against last year's champion! One of the events' highlight is the THEN and NOW where your cover group can perform your favorite idol groups songs from debut to present!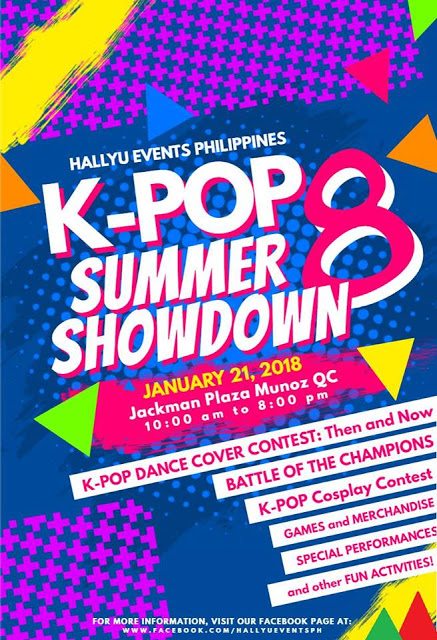 Get ready for the battle of the champions, games, merchandise, and special performances. Who do you think will win this year? See you this January 21, 2018 at Jackman Plaza, Muñoz, Quezon City from 10 am to 8 pm!
Event highlights include:
K-POP Dance Cover Contest: THEN
K-POP Dance Cover Contest: NOW
BATTLE OF THE CHAMPIONS
K-POP Cosplay Contest
Details:
What: K-POP Summer Showdown 2018
Where: Jackman Plaza Munoz, Quezon City
When: January 21, 2018, 10 am to 8 pm