Nitro Circus Live in Manila 2018
Update: Nitro Circus has been rescheduled to August 4 and 5, 2018, still at the Mall of Asia Arena.
Amazed by dare-devil stunts? Fascinated by glamorous and well-kept motorbikes? Now is the time! Come and be part of a heart-stopping and breathtaking performance through Nitro Circus, happening this 2018!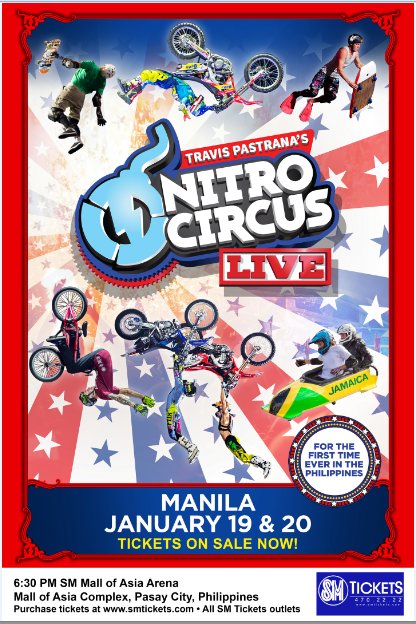 IMAGE Mall of Asia Arena's Twitter Account 
For the first time, Nitro Circus makes its way to Manila and is looking set to own the spotlight as it hosts the grandest, biggest, and the most awaited sports action show on the planet happening on August 4 and 5 at the SM Mall of Asia Arena.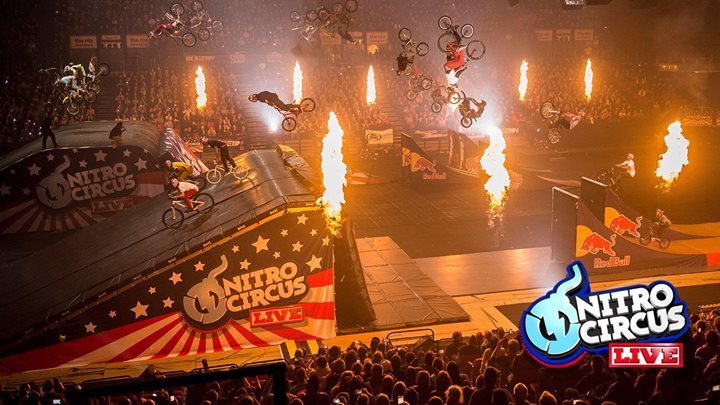 IMAGE Manila Go 
Nitro Circus is a two-day sports action show that will highlight performances from dirt bike legend Travis Pastrana and his friends. They will be performing a series of stunts including dirt bike riding and base jumping that will leave you in awe and in full amazement.
First ever NITRO CIRCUS live in ManilaThe largest live stunt show comes to Manila! Get ready for Nitro Circus an "action sport collective" led by action sports legend Travis Pastrana featuring his friends from around the world riding dirtbikes, base jumping, and performing jaw dropping stunts that will leave you awestruck. Nitro Circus will be on January 19 & 20, 2018 at the SM Mall of Asia Arena. You can purchase your tickets via online at www.smtickets.com or visit all SM Tickets outlets. For more information please call SM Tickets at (02) 470-2222. #NitroCircus #NitroCircusLiveinManila Nitro Circus live in Manila January 19-20, 2018 at Mall of Asia Arena. Show starts at 6:30pm.Tickets are sold through SM Tickets and are available on December 1, 2017.-VIP Center P6250-VIP sides P5000-Upper Box Center P3750-Upper Box Side P3000-General admission P1250Mall of Asia ArenaJanuary 19-20, 20186:30pm

Roderick Doblas Awaさんの投稿 2017年12月2日(土)
Tickets are priced at Php 6,250 for VIP Center, Php 5,000 for VIP Sides, Php 3,750 for Upper Box Center, Php 3,000 for Upper Box Side, and Php 1,250 for General Admission. You may avail tickets for the show online via www.smtickets.com or at any SM Ticket outlet nationwide.
Details:
What: Nitro Circus Live in Manila
When: August 4-5, 2018
Where: SM Mall of Asia Arena
Ticket Price:
Php 6,250 for the VIP Center tickets
Php 5,000 for the VIP Sides tickets
Php 3,750 for the Upper Box Center tickets
Php 3,000 for the Upper Box Side tickets
Php 1,250 for the General Admission
---
Written By: Patricia Antoinette M. Nacianceno
Image Source: Mall of Asia Arena's Twitter Account, Manila Go; Video from: Roderick Doblas Awa in Facebook