Flow in the City Holiday Fair 2017
Happening this December 2 to 3, 2017, Flow in the City Holiday Fair lets you in on an exciting wellness market journey as various goods and activities await you!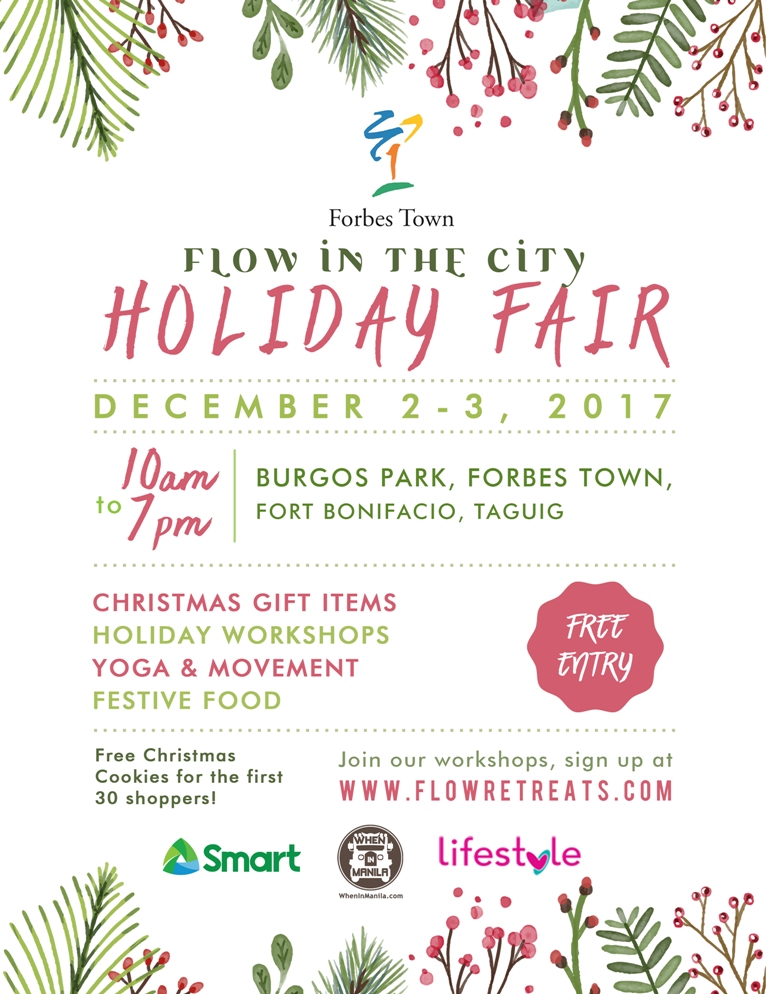 Expect good quality, handcrafted finds, wholesome eats, and local products that make the perfect gift for loved ones and even for yourself! Explore local weaves; feast on healthy food that may fall under vegetarian, vegan, paleo, gluten-free, or similar; pick up handmade self-care and home products; and explore a diverse selection of inspiring gifts for children.
As always, the day will have back-to-back-to-back workshops both in movement and in crafts taught by passionate, local members of the community.
In the movement workshop area, sweat it out in a Pound Rockout Workout class with Madie Dinglasan, deepen your yoga practice at an Arm Balance yoga class with Bri Manglapus, or enroll your kids in a storytelling kids yoga and meditation with Teacher Bea, among others. In the crafts area, learn to prepare healthy Noche Buena with Jertie's Kitchen, take a Christmas-themed Playdough workshop with Denise Bernardo, discover how to brew your own kombucha with Starr's Brew or learn more about Homeopathy with Denise Celdran.
Exciting, isn't it? See you at the fair! Admission is FREE.
DETAILS
What: Flow in the City Holiday Fair 2017
When: December 2 to 3, 2017; 10 am to 7:00 pm
Where: Burgos Park, Fobes Town, Fort Bonifacio, Taguig
Website: www.flowretreats.com
Email: info.flowinthecity@gmail.com