Peksman! by Marco Malto on November 26 to December 15, 2017
In the Philippines, "Peksman" is one of the popular local word used, it translates to "promise". It is commonly used when a friend promises something or hopes to have a trust of that person.
With Marco Ruben T. Malto, a professor of the College of Fine Arts in UP Diliman, he decides to expose fake news in the country through an exhibit. Peksman! will happen on November 26 until December 15, 2017, at the Sining Kamalig Art Gallery, Upper Ground Floor, Ali Mall, Araneta Center, Quezon City.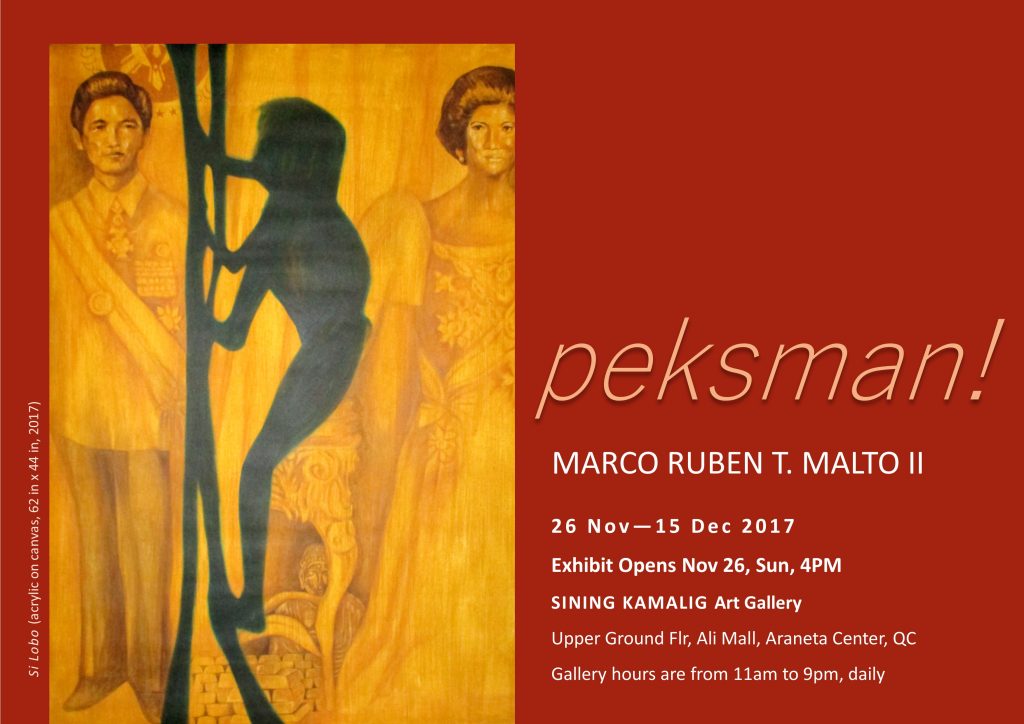 Be awed as his paints are a perception of time, through the past and present propaganda. Separating the past from fiction, the exhibit is a "post-truth" period about people and oneself.  Be ready to be the expose of fabricated truths and how the Filipino public is blindfolded by the elitist.
Everyone is encouraged to witness the representation of today's world as the artist take on the raging details about the Philippines. Peksman! opens on 26 Nov 2017, Sunday, 4 pm at Sining Kamalig Art Gallery. There goes a saying "Peksman! Cross my heart", somewhere between a heartfelt and light promise, with Malta's art, you'll fully visualize the ignored dilemmas.
DETAILS
What: Peksman! 
Where: Sining Kamalig Art Gallery, Upper Ground Floor, Ali Mall, Araneta Center, Quezon City
When: November 26 to December 15, 2017