Season's Symphonies at Ayala Museum
Christmas is barely a month away. Christmas carols are starting to fill up the airwaves. Every mall, store, restaurant, and any other establishment you come across is decked with Christmas decorations from top to bottom.
Why not add to your holiday spirit with these concerts at the Ayala Museum?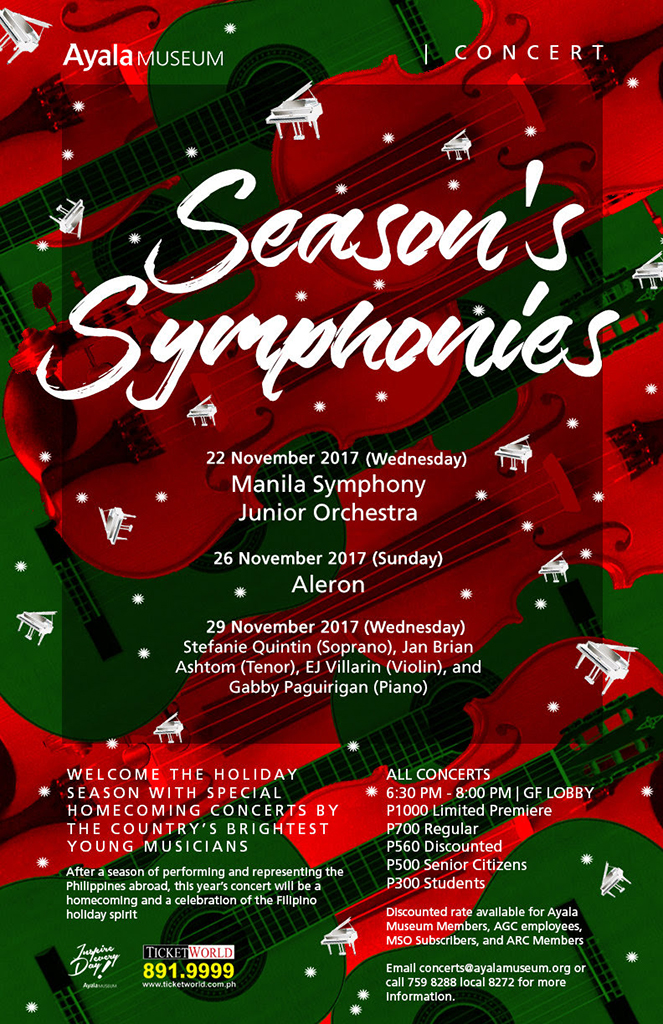 Welcome the holidays with Season's Symphonies at Ayala Museum, happening on November 22, 26, and 29, all starting at 6:30 pm!
After an entire season of performing overseas, some of the country's brightest young musicians will come home and ring in the holidays with their performances at the Ayala Museum.
SA KABUKIRAN by Manuel Velez, one of the pieces performed by the MSJO yesterday at the Ayala Malls Solenad. Solos by EJ Villarin and Kyla Coronel. Enjoy!#msjo#filipinomusicheritage#youthorchestra

Manila Symphony Junior Orchestraさんの投稿 2017年11月12日(日)
Fresh from their 2nd Prize win at the 2017 Summa Cum Laude International Youth Music Festival held in Vienna, Austria, the Manila Symphony Junior Orchestra will have their homecoming and thanksgiving concert Bring Home the Mozart Chocolate at the Ayala Museum on November 22.
November 26 will see the Philippine-based all-male choir Aleron delighting audiences with their soulful renditions of Christmas classics. Ayala Museums will cap off Season's Symphonies with vocal stand-outs Stephanie Quintin (Soprano) and Jan Brian Ashtom (Tenor) alongside violinist EJ Villarin, one of the latest in Wyeth's gifted children, and pianist Gabby Paguirigan.
Tickets are at Php 1,000 for Limited Preview and Php 700 for regular tickets at the Ayala Museum or online at Php 850 via TicketWorld. For more information, please email concerts@ayalamuseum.org or call 02-759-8288 local 8272.
Details:
What: Season's Symphonies at Ayala Museum
When: November 22, 26, and 29, 2017; 6:30 pm – 8:00 pm
Where: Ayala Museum, Makati Ave. cor. Dela Rosa St., Makati City
Tickets: Php 1,000 (Limited Preview); Php 700 (regular, free seating); Php 560 (discounted, available for Ayala Museum members, AGC employees, MSO Subscribers, and ARC Members only); Php 500 (senior citizens), Php 300 (students); Php 850 (free seating, via TicketWorld only)