Before I Do – Wedding and Debut Fair 2017
Before I Do – Wedding and Debut Fair is back after their successful events this year! Save the dates and gear up for your wedding and debut plans on November 25-26, 2017, 11 am to 10 pm at the Megatrade Hall 3, SM Megamall.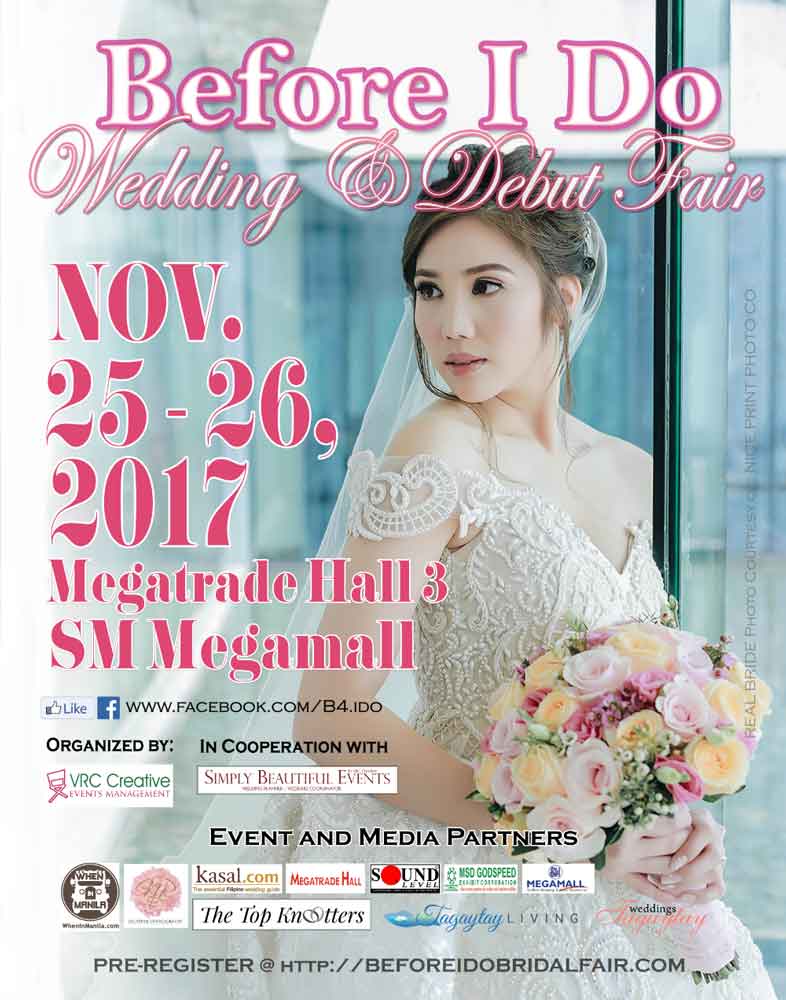 VRC Creative Events has partnered with TagaytayLiving.com, WeddingsTagaytay.com, TheTopKnotters.com, and Kasal.com to help wedding and debut suppliers reach out to brides and debutants online and even at bridal fairs such as #BeforeIDoBridalFair. If you are a bride or debutant, head to these online wedding resources to find suppliers and tons of party inspirations!
Three (3) lucky early bird brides get a free copy of "Before I Do," a hilarious, catty, and heart-breaking read for every girl who wants the wedding but not the responsibilities of marriage — at least not yet. Lucky couples and debutants can also bring home exciting gifts from sponsors and exhibitors during the hourly raffle draws. No need to purchase anything, just register online or on-site and your name is in!
If you are a wedding or debut supplier and would like to expand your reach, email before.ido.bridalfair@gmail.com or call 02-809-3119.
DETAILS
What: Before I Do – Wedding and Debut Fair
When: November 25-26, 2017 (11:00 AM to 10:00 PM)
Where: Megatrade Hall 3, SM Megamall, Mandaluyong City
Website: http://beforeidobridalfair.com/