See the best of ASEAN Performing Arts at CCP this November!
The Cultural Center of the Philippines is proud to host the Roots and Rhythms: The Best of ASEAN Performing Arts on November 4, 7 p.m., at the Tanghalang Aurelio Tolentino (Little Theater), with a second performance on November 5, 5 p.m., at the Luneta Open Air Auditorium.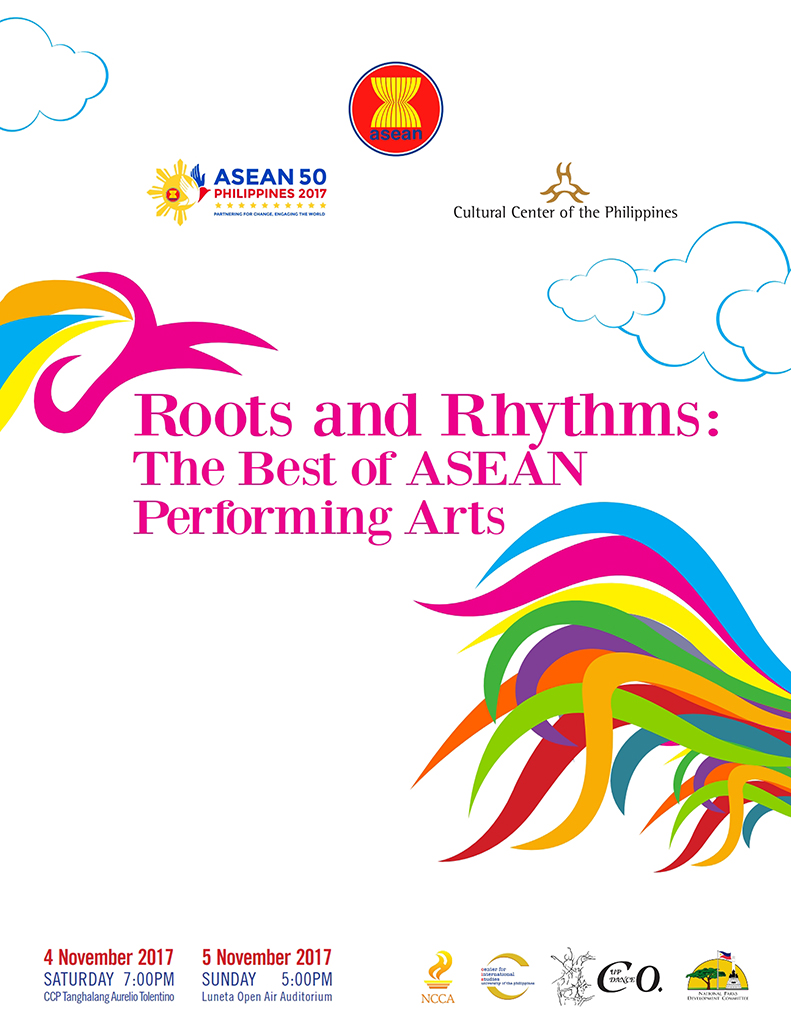 In celebration of the ASEAN's 50th anniversary, the performance concert showcases the best of ASEAN performing arts among the 10 Member States, namely Brunei Darussalam, Cambodia, Lao PDR, Indonesia, Malaysia, Myanmar, Singapore, Thailand, Vietnam, and the Philippines.
The Philippines, this year's Chair of ASEAN and host of ASEAN 50th anniversary, envisions a celebration that promotes ASEAN awareness through the region's rich and diverse cultures. It also aims to celebrate a unified Southeast Asian regional community that is tied by history and culture and traditions.
Each ASEAN Member State will present a 10-minute performance, featuring one musician and one dancer or two dancer-musicians – all of whom are culture-bearers who are recognized in their respective ASEAN Member States, and whose works are rooted in tradition but reflective of the contemporary times and appreciated by the contemporary audience.
Envisioned to breathe new life to traditions and infuse them with a contemporary feel, the performances depict the flight of the bird maidens, a mystical being characterized as half-woman, half-bird beings of the clouds and waters with superhuman powers, great beauty and elegant dancing prowess.
There will also be a jamming/collaborative performance by all the ASEAN Member States. The collaborative performance will use and feature a music ensemble that highlights the ASEAN's quest for peace and captures the spirit, cultural complexity and charm of ASEAN.
The performances are open to the public. Everyone, especially the youth who are expected to lead the ASEAN in the next 50 years, is encouraged to come and watch the "Roots and Rhythms: The Best of ASEAN Performing Arts."
Details:
What: Roots and Rhythms: The Best of ASEAN Performing Arts
When: November 4, 2017, 7 p.m.; November 5, 2017, 5 p.m.
Where: Tanghalang Aurelio Tolentino (Little Theater), CCP Main Building, CCP Complex, Roxas Blvd., Pasay City (Nov. 4); Luneta Open Air Auditorium, Rizal Park, Roxas Blvd., Manila (Nov. 5)
---
This is a press release from CCP. Minor edits were made by Philippine Primer editors before posting.