Study World Education Fair 2017
Over 45 educational institutions from countries like the UK, USA, Canada, Australia, Singapore, Spain, Ireland, France and Italy; will come together to give you and your children academic opportunities such as Undergraduate Degrees, Master's Degrees, PhD and Research, Foreign Language Learning, Internships, Career Development Certificates and more!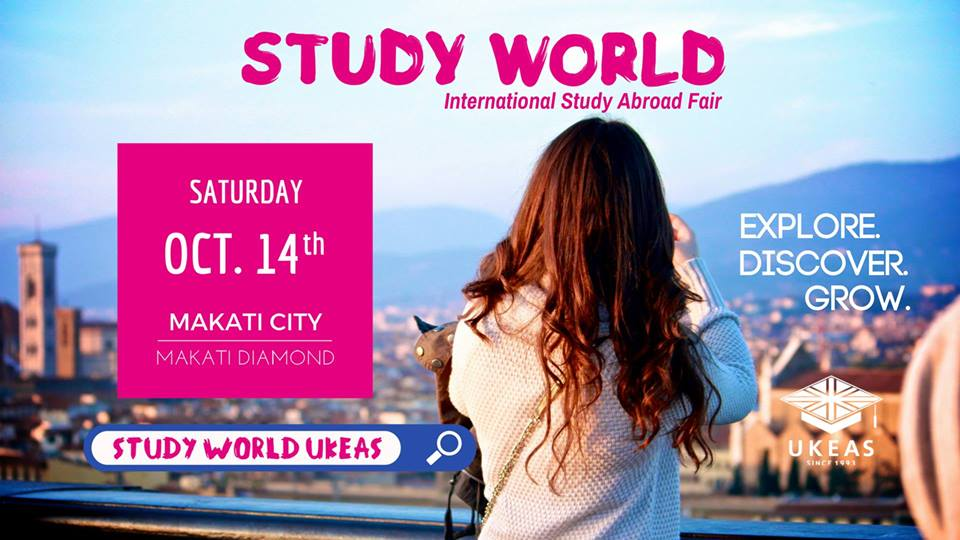 Opening doors for student and professionals for greater academic opportunities abroad, Study World Education fair brings international education right to your doorstep. Get a chance to listen to admission officers, representatives and alumnae as they talk about their institution's programs, culture, and lifestyle of studying abroad in their many seminars.
There isn't a better way to jumpstart your career than by learning. So head on over to Makati Diamond Residences on October 14, 2017 for a free International crash course on studying abroad and other academic opportunities.
DETAILS
What: STUDY WORLD EDUCATION FAIR 2017
When: October 14, 2017
Where: Makati Diamond Residences, Legazpi St., Legazpi Village, Makati City
Website: https://www.ukeas.ph/registration/index.php
Facebook: https://www.facebook.com/UKEASPhils
Written by Philippine Primer intern Ofelyn Datuin