Techno Games Xtreme Expo 2017
See and experience the latest in technology and gaming in the first Techno Games Xtreme Expo 2017 on November 3-5, 2017 at the SMX Convention Center, Pasay City.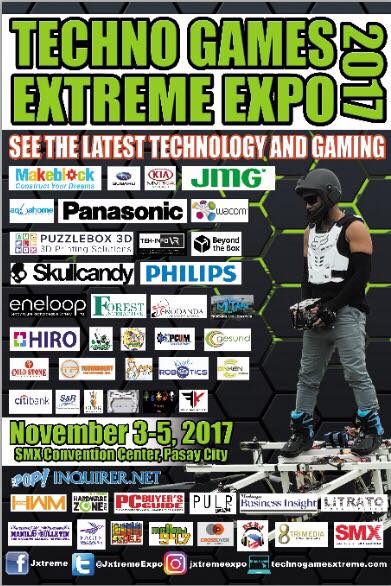 Organized by JXTREME Expo Events Management, Techno Games Xtreme Expo 2017 provides a venue for all the businesses, institution and individuals in technology and gaming industry to bring their products and services closer to the market.
Some of the technologies that will be exhibited are: vehicles from Subaru and Kia; Philippines' first human-sized flying drone developed by KyxzMendiola; An All-new VP experience fromTech Info VR; Interactive pen displays and pen tablets from Wacom; and Gamevice, which will turn your Apple devices into a portable gaming console.
Enchanted Kingdom will also be joining to introduce its all-new 6D experience, the Agila EKsperience. Kodanda Archery also lets you to experience archery for only Php 50 per person with five arrows.
Entrance fee starts at P100 for one day pass, but if you want a three-day pass and a souvenir-in-one, JXTREME Expo Events is selling an emblem for Php 195. Visit JXTREME Expo Events on Facebook for more information.
Details:
What: Techno Games Xtreme Expo 2017
When: November 3 to 5, 2017
Where: SMX Convention Center, Pasay City
Ticket/Admission Details:
Php 100 – One Day Pass
Php 195 – Three-day pass inclusive of souvenir. Visit JXTREME Expo Events for more details
---
Written by Philippine Primer intern Pia Ramirez