BAMBOO WHISPERS: A People Writes Their Story
Filipinas Heritage Library and the Mangyan Heritage Center proudly presents Bamboo Whispers, an exhibition on Mangyan script and ambahan poetry starting October 7, 2017 at the Ayala Museum, Makati City.
See the details below for the schedule of each activity:
October 7 to 25: (Free Admission) Exhibition of artifacts, photographs, and artworks inspired by Mangyan script and poetry
October 7: Symposium in honor of Antoon Postma (with Masaru Miyamoto, Tish Agarrado Javier, Anya Postma, Quint Fansler, and Ewald Dinter SVD) and IPalengke BAZAAR of products from IP communities
October 14: Talks on the Indigenous Peoples Rights Act (IPRA), indigenous peoples (IP), and Mangyan issues (with Nestor Castro, Resti Reyes Pitogo, and Kevin Kunishi)
October 21: Lecture/Workshop on ambahan writing (with Danton Remoto)
October 24: Launch of Bamboo Whispers, book of Mangyan poetry with photographs
The Bamboo Whispers event is made in celebration of the National Indigenous Peoples Month. Get to learn through the various activities such as writing and drawing exercises using the Mangyan script and shop local as you buy IP products in the IPalengke bazaar.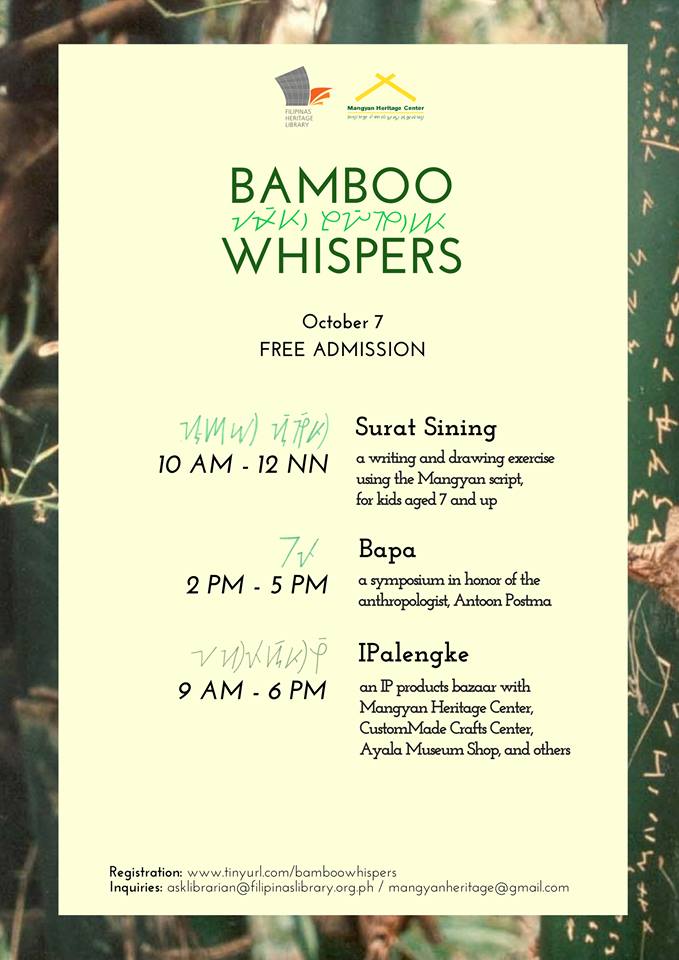 Celebrate the rich heritage of the indigenous people of the Philippines. Come by the Bamboo Whispers event!
DETAILS
What: BAMBOO WHISPERS: A People Writes Their Story
When: October 7 to 25, 2017
Where: Ayala Museum, Makati Ave. cor. Dela Rosa St., Greenbelt Park, Makati City
Registration: www.tinyurl.com/bamboowhispers
Contact: 02-759-8288 local 8281
Email: asklibrarian@filipinaslibrary.org.ph