Understanding Labor Laws for SMEs
Due to the growing consumer demand and a rebound in exports and investments, the Philippines' GDP has been growing for the past years. In the country, there are about 41 million people working in the Philippines, and more than 21 million of them are employed in the services sector.
Happening on October 7, 2017, be part of a seminar that will focus on the importance of Labor Standards, and the essential regulations that employers and HR professionals should be aware in the conduct of their business and the workplace.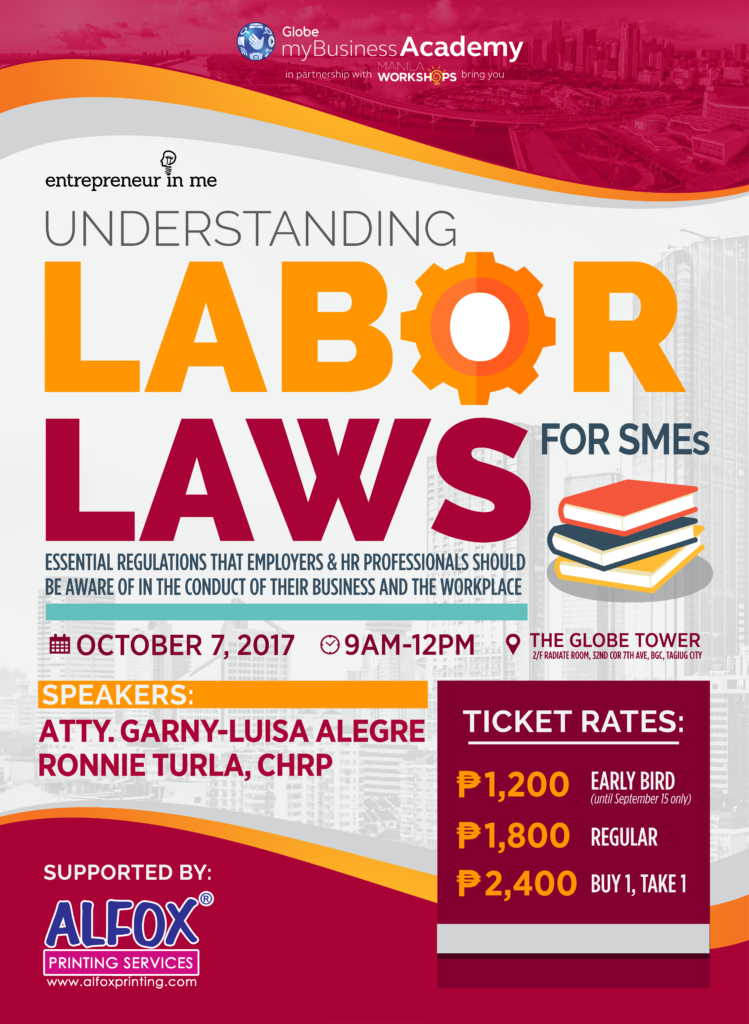 IMAGE Manila Workshops
Labor Laws for SMEs will happen on October 7, 2017, from 9 am to noon at the Globe Tower in BGC, an event that will be featuring some sample cases and illustrations to give the participants actual formulas and techniques in dealing with employee issues.Tickets for the event are priced at Php 1,800 for the regular price and Php 2,400 if you wish to avail of their buy 1 take 1 promo.
Speakers for the event will include Atty. Garny-Luisa Alegre who is currently the Head of HR and Legal of ARC Refreshments Corporation, the licensed bottler of RC Cola in the Philippines, and Ronnie Turla, CHRP who has more than 10 years of experience in the field of Human Resource Management. Some of the topics that will be discussed will include the following:
Important Employment Standards focusing on New Dole Advisory 174 and Anti-age Discrimination Employment Act
Wages and Benefits for both employers and employees focusing on Leave for Women and Victims, and Tax Implications for 13th Month Pay
Discipline and Dismissal focusing on Due Process Requirements and Employee code of conduct
Details:
What: Understanding Labor Laws for SMEs
Where: The Globe Tower, 32nd St 1643, 7th Ave, BGC Taguig City
When: October 7, 2017, from 9 am to 12 nn
Ticket Price: Php 1,800 Regular Price, Php 2,400 Buy one Take one promo
For inquiries and reservations:
EMAIL: payments@manilaworkshops.com
---
Written By Patricia Antoinette M. Nacianceno
Image Source: Manila Workshops