Jenny Han & Siobhan Vivian Signing Tour in PH
Best-selling authors Jenny Han and Siobhan Vivian are visiting the Philippines for a book signing tour in Metro Manila and Cebu from September 15 to 17.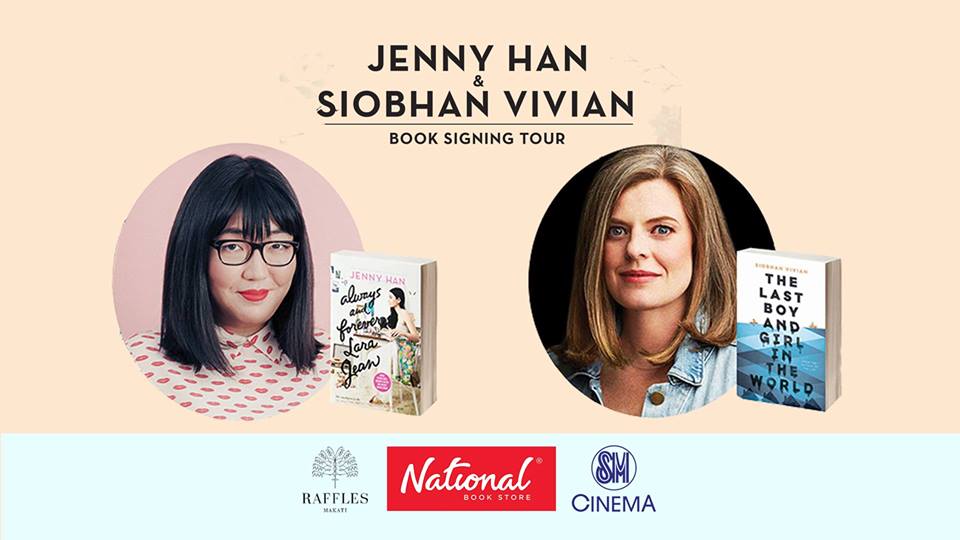 Jenny Han and Siobhan Vivian are going to the Philippines together for a book signing tour! /IMAGE National Book Store Facebook page
Fans can catch them first at SM City Cebu on September 14, and then at SM Megamall on September 16, and at the Manila International Book Fair on September 17.
Also read: Manila International Book Fair 2017: The country's longest-running book fair is back!
Readers of young adult fiction should know Jenny Han as the writer behind New York Times best-selling novels like the trilogy To All the Boys I've Loved Before and Always and Forever, Lara Jean.
Siobhan Vivian meanwhile is another New York Times best-selling novelist known for The Last Boy and Girl in the World and the Burn for Burn trilogy among others. She is also an editor and a screenwriter.


IMAGES National Book Store website
Here are the complete guidelines to remember before you set out for the book signing:
1. The book signing event is on a first-come-first-served basis. Each person can only register for one (1) slot.
2. Registration starts at 10 a.m.
3. Only the first 500 can enter the venues to have their books signed. The succeeding participants will be given one (1) signed Jenny Han bookplate and one (1) signed Siobhan Vivian bookplate.
4. One signing pass will let you have three (3) Jenny Han books and three (3) Siobhan Vivian books signed.
5. Only books purchased from National Book Store, Powerbooks, and NBS Express can be signed. Be sure that you can show either the official receipt or the price tag of the books.
6. No signing pass and book, no entry.
7. A child aged 17 and below can be accompanied by only one (1) parent or guardian, but only the child can come up the stage for the book signing and picture taking.
8. During the book signing program, participants will be called by batch based on their pass numbers.
9. Have a good camera ready as there will be an official photographer who will take your photo for you using your own device. Video greetings will not be allowed.
Details:
SM City Cebu
Where: Cinema 1, SM City Cebu, Cebu City
When: September 15, 2017, 4 p.m.
Slots for book signing: 500
Slots for signed book plates (after the first 500): 300
SM Megamall
Where: Cinema 9, SM Megamall, EDSA corner J. Vargas Ave., Mandaluyong City
When: September 16, 2017, 2 p.m.
Slots for book signing: 500
Slots for signed book plates (after the first 500): 600
Manila International Book Fair
Where: Activity Area, 2nd Floor (during the Manila International Book Fair), SMX Convention Center, Mall of Asia Complex, Pasay City
When: September 17, 2017, 2 p.m.
Slots for book signing: 500
Slots for signed book plates (after the first 500): 400
---
Source: National Book Store Facebook Page
Images grabbed from: National Book Store Facebook Page, National Book Store website