Liza Magtoto's A Game of Trolls
There is no guarantee that the idea of battling against the glorified regime of the late President Marcos would still be alive after a few years or even decades, but it is certain that there will be a glimpse of hope from the generations that saw the genuine effort of the people who have fought against the dictator.
The sweat, blood, tears, and lives of the  people who opposed the evil will forever be in the hearts, minds and lives of the Filipino people who believe that the country will one day rise again from the ashes and blood of the suppressed and the minority, far from the partition of the majority and the powerful like Liza Magtoto's A Game of Trolls is about to showcase to its audience.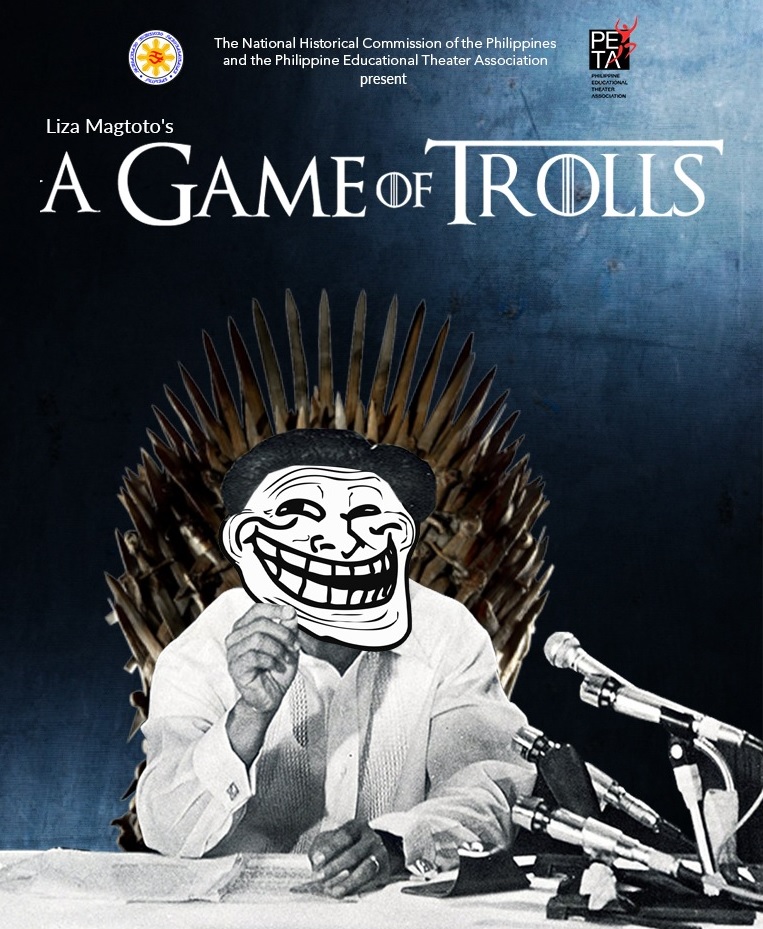 IMAGE TICKETWORLD
Presented in partnership with the National Historical Commission of the Philippines (NHCP), and the Philippine Educational Theater Association (PETA), A Game of Trolls follows the story of Hector, a millennial employed as a troll who is oblivious to history and the Martial Law era. Somewhere in the story, he is introduced to the sacrifices of Edgar Jopson, Emman Lacaba, Bobby dela Paz, Macli-ing Dulag and other heroes who died under the dictatorship of Ferdinand Marcos, Sr.
Happening in the month of September at the PETA Theater Center in Quezon City, come and witness a musical for millennials that will highlight stories from activists during Martial Law!
Tickets are priced at Php 1,500 for VIP; Php 1,200 for both orchestra and balcony center; and Php 1,000 for orchestra side.
---
Written By: Patricia Antoinette M. Nacianceno
Image Source: Ticketworld
Details:
What: Liza Magtoto's A Game of Trolls
When: September 2, 3, 17, 24 (3:00 PM), and September 28 (8:00 PM)
Where: PETA Theater Center, 5 Eymard Drive, Quezon City
Ticket Details:
VIP Ticket -Php 1,500
Orchestra or balcony center – Php 1,200
Orchestra side – Php 1,000
You may buy your tickets online through www.ticketworld.com.ph