A Place in the Sun by Danilo Arriola
On August 26, ArtistSpace will present A PLACE IN THE SUN, an exhibition showcasing the works of Danilo Arriola. His method of choice: chiaroscuro, the stark contrast of light and dark.
In his solo exhibition A Place in the Sun, we see how he applies this Renaissance technique onto objects both precious and ordinary—an antique chalice, a jade sculpture, deformed candles, old bottles of Choco-Vim, and the humble singkamas.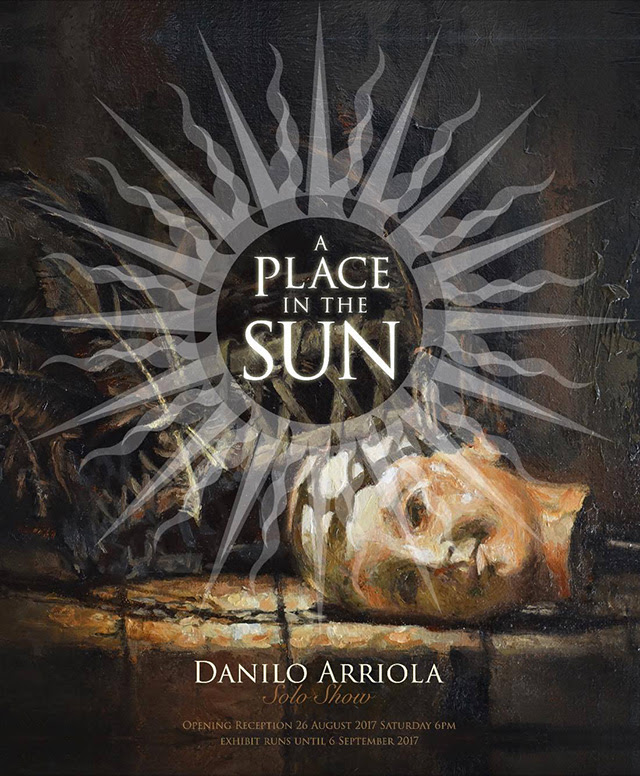 There is something about the detritus of ages that fascinates–even obsesses–Danilo Arriola. He is a voracious accumulator of artifacts: animal skulls and ceramics, a crown and some fruit, all have a place in his cabinet of curiosities. Is it the interesting forms that draw his attention, or possibly their worn patina? "Hindi ko rin alarm kung bakit," he says, "pero mas gusto ko 'yun, na hindi ko alam." And so Arriola embraces the enigmatic; he observes each object intensely, allowing himself to be consumed by the daily routine of looking.
Like the objects in his vignettes, he is no stranger to darkness. Effaced by ailment, color blindness, and a pall of self-doubt, he has long struggled with the sentence of invisibility, the curse of being unseen… or refusing to be seen.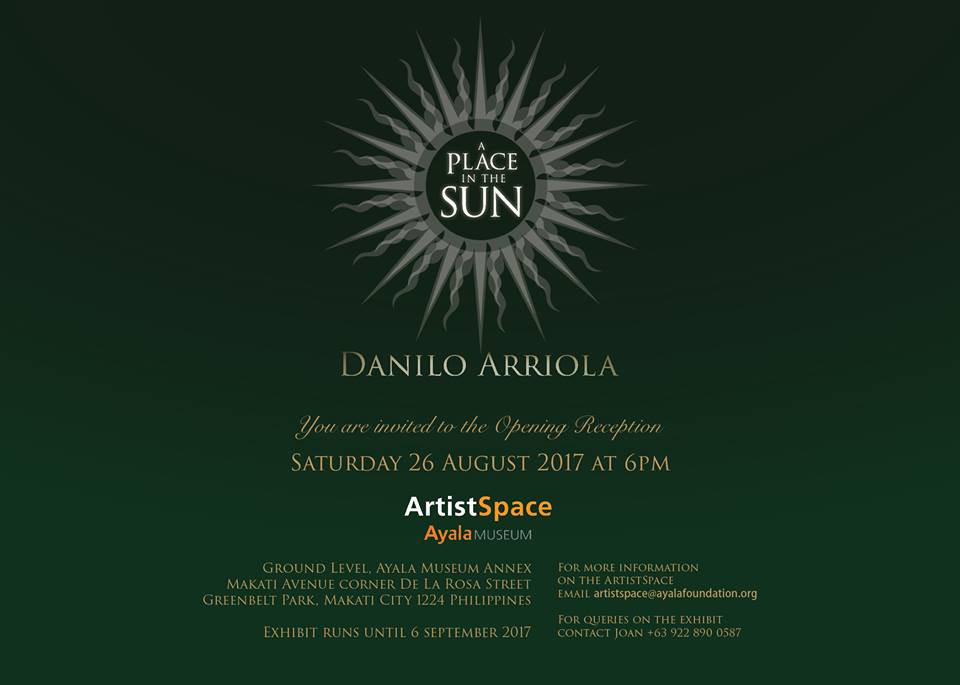 Through painting, he challenges the shadows. Chiaroscuro is a battle on canvas: light interrogating dark. The meticulous process demands weeks of keen concentration for each work. Here, in the half-light, he strains to look at every minute detail. Scratches and decay, the intricate play of light, every layer of rust and dust, all are rendered.
ADMISSION IS FREE.
About the Artist
Danilo Arriola (b. 1967) is a painter based in Pasig City. He studied architecture at the University of Santo Tomas and worked as a designer and perspectivist in Manila, Singapore, and Hong Kong. His formative years in painting were under the mentorship of Fernando Sena in Manila and Wee Shoo Leung in Singapore. In 2004, he decided to pursue art and took the Intensive Drawing course under Daniel Graves at The Florence Academy of Art in Italy.
---
Source: Ayala Museum 
DETAILS
What: A Place in the Sun by Danilo Arirola
When: August 26 to September 6, 2017
Where: ArtistSpace, Ayala Museum Annex, Makati Ave. cor. Dela Rosa St., Greenbelt Park, Makati
Contact: 02-759-8288
Email: artistspace@ayalamuseum.org
Contact person: Jane Salvador, gallery coordinator