Kabataang Gitarista's 5th Anniversary Concert
KABATAANG Gitarista (KG), a classical guitar training program for public high school students in Manila, Pasay, and Paranaque will be celebrating its 5th Anniversary with a concert at the Tanghalang Aurelio Tolentino (CCP Little Theater) on Saturday, August 26 at 3 pm.
KG was organized by the CCP Artist Training Division in August 2012 to promote appreciation for, and interest in classical guitar performance among public high school students; to provide the highest level of guitar training free of charge, and to develop a performing classical guitar ensemble.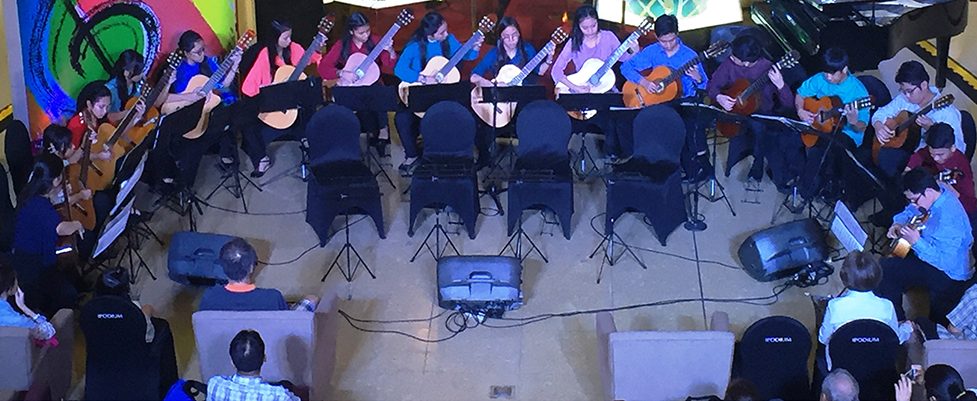 Performing in the concert are different batches of the Kabataang Gitarista, particularly batches currently receiving training: the 2016 and 2015 Batches, and the Core Group, which inlcudes batch 2014, and other earlier batches. Performers are extensively trained by Maestro Jose Valdez, and his assistant Daniel Lopez.
The program will include the following:
Philippine traditional song Doon Po sa Amin (Valdez, arr.) by Batch 2016
De Leon's Ilang-Ilangby Batch 2015
Brahms' Hungarian Dance No. 5 by batch 2014
Lecuona's Andalucia by batch 2014
Suarez'  Katakataka  with Arevalo's Ikaw ang Mahal Ko by batch 2014
Silos' Ikaw Lamang by batch 2014
De Falla's Danza Ritual del Fuegoby batch 2014
The highlight of the concert will be the performance of the all-male performing ensemble composed of two alumni majoring in classical guitar, who are currently enrolled in colleges of music, and selected outstanding members of the 2014 batch who are currently still in high school.  The group is composed of Mr. Christian Mercader, Mr. Fernando Sy-Changco III, Mr. David Tiongson, Mr. Andrei Fernandez, and Mr. Edel Mark Bitao and will play selections from:
Arrival of the Queen of Sheba (Handel/Mercader, arr.)
Introduction et Fandango (Boccherini/Kannengeiser, arr.)
Selections from Bizet's "Carmen" (Bizet/Kannengeiser, arr.)
Bluezilian (Assad)
Presto (1st movement) from String Quartet No. 3 (Mozart/Hoger, arr.)
Libertango (Piazzolla/Hirakura, arr.)
Pacific Coast Highway (York)
Gaano Ko Ikaw Kamahal (Cuenco/Valdez, arr.)
El Relicario (Padilla/Valdez, arr.)
Usher Waltz (Koshkin).
The concert is FREE and open to the public on a first-come-first-served basis.
---
Image Source: Kabataang Gitarista
Details:
What: Kabataang Gitarista's 5th Anniversary Concert
When: August 26, 2017 (3:00PM)
Where: Tanghalang Aurelio Tolentino (CCP Little Theater)
Ticket Price: The concert is FREE and open to the public on a first-come-first-served basis