International Tourism Day Forum
In observance of the World Tourism Day, the Spanish Chamber of Commerce in the Philippines will be holding the International Tourism Day Forum on September 27 at Dusit Thani Manila from 9 am to 1 pm.
This forum will highlight the most recent and material developments in the Philippine tourism industry. Focusing on emerging opportunities and taking note of the current challenges in the sector, the event seeks to show European investors the attractiveness and accessibility of the market.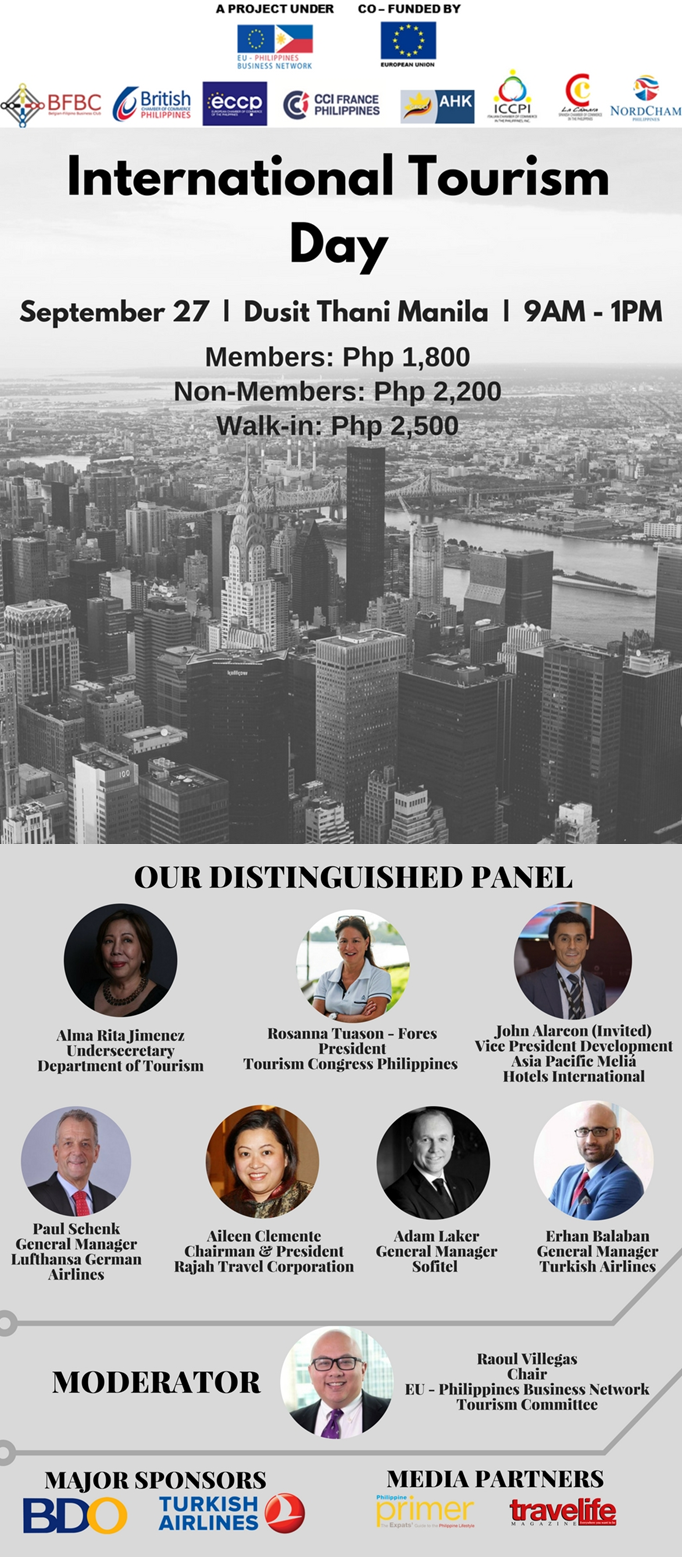 The forum is divided into three sessions. The first one is the Government Tourism Plan 2017 to 2022, where attendees can expect to be updated with regards to the current administration's programs, targets, initiatives, and new opportunities in the tourism industry.
The second session will highlight Theme Destinations in the Philippines which will feature two speakers: Ms. Rosanna Tuason – Fores, President of the Tourism Congress Philippines; and Ms. Aileen Clemente, Chairman and President of Rajah Travel Corporation.
The last session will unravel the disruptions and opportunities in the tourism industry with a special focus on the hospitality and airline business. The idea is to highlight the opportunities available for key players and to improve service to tourists at the same time.
This event is a project of the EU – Philippines Business Network which helps European enterprizes and SMEs gain access to business opportunities in the Philippines and in driving European trade and investment in the country as well as the ASEAN region.
The project is implemented by the Belgian Filipino Business Club, British Chamber of Commerce, European Chamber of Commerce, French Chamber of Commerce, German – Philippine Chamber of Commerce, Italian Chamber of Commerce, Spanish Chamber of Commerce, and Nordic Chamber of Commerce.
Click here to register.
---
DETAILS
What: International Tourism Day Forum
When: September 27, 2017; 9 am to 1 pm
Where: Dusit Thani Manila, EDSA Ave., Makati
Email: lacamara@lacamaramanila.com
REGISTRATION FEES:
Members: Php 1,800
Non-members: Php 2, 200
Walk-ins: Php 2,500