The Glitter Trap on August 20 at Circuit Makati
Repertory Philippines is giving everyone another chance to catch their magical musical masterpiece as The Glitter Trap holds a weekend run on August 20 at Circuit Makati. 
Starring a young and talented cast, all aged 11 to 17, Repertory Philippines' The Glitter Trap is based on Barbara Brauner and James Iver Mattson's young adult novel of the same title.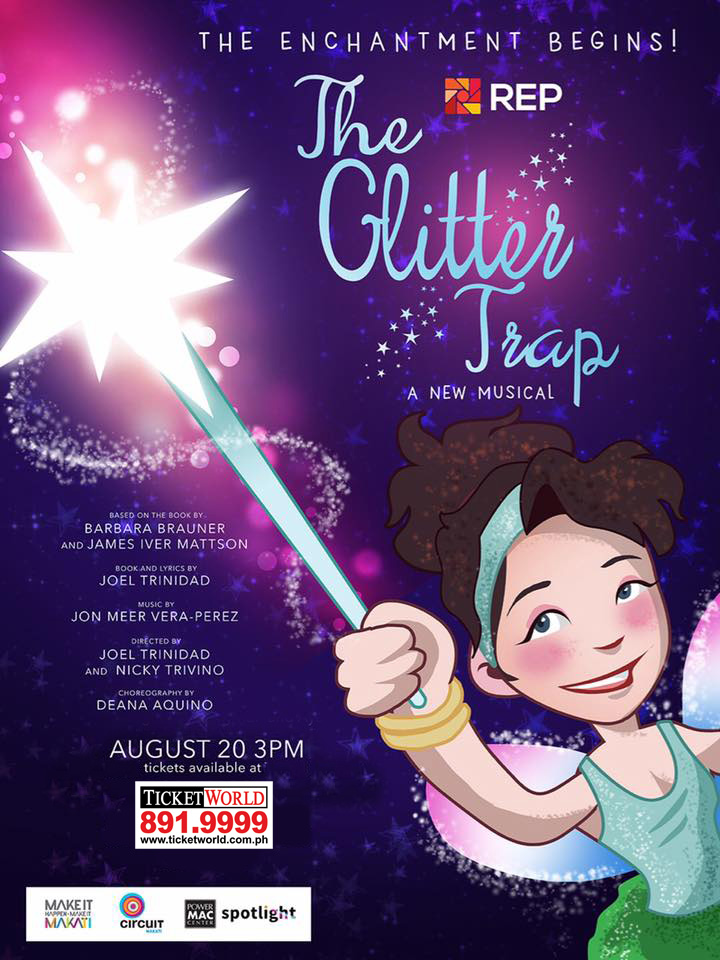 The original musical production tells the story of middle school misfit Lacey Unger-Ware as she takes on the responsibilities of the cranky, glitter-loving, fairy godmother Katarina who accidentally gets trapped in Lacey's hair. As the new fairy godmother of the most popular girl in school, Lacey learns that things aren't always what they seem from the outside, and gains a better appreciation for what she has.
22 performers, including Rayne Cortez as Lacey, Michelle Cornejo as popular girl Paige, Chez Cuenca as fairy godmother Katarina, and Stacy Tsai as Lacey's best friend Sunny, will be bringing their talents to the stage.
Playful, poignant and entertaining, the show is directed by Joel Trinidad and Nicky Triviño, with book and lyrics by Joel Trinidad, music by Jon Meer Vera-Perez, musical direction from Adonis Tabanda, and choreography from Deana Aquino.
Ticket price is Php 522.50, free seating. You can buy your tickets from TicketWorld.
Details
What: The Glitter Trap
When: August 20, 2017; Sunday 3:00 pm
Where: PowerMac Center Spotlight, Level 2 Circuit Lane, Circuit Makati
---
Information and image grabbed from ticketworld