The West Side Story Hits Solaire On August 10
An international musical production will bring world-renowned The West Side Story at The Theatre at Solaire on August 10.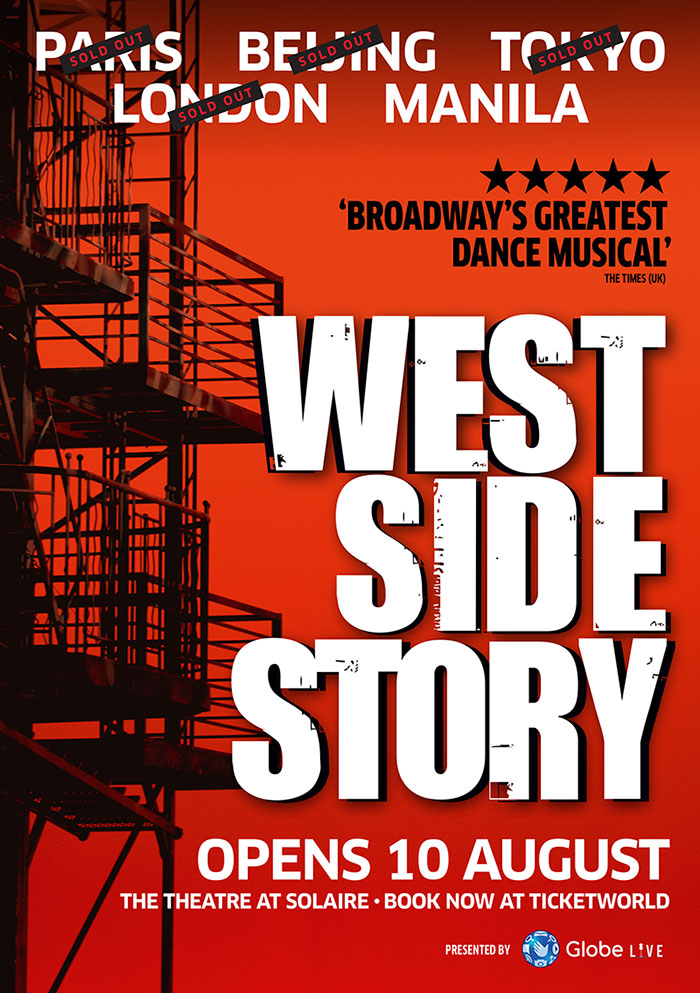 The West Side Story to be staged at The Theatre at Solaire on August 10./IMAGE TicketWorld
Confirmed last February by the Lunchbox Theatrical Productions Chief Executive James Cundall, the musical masterpiece will show Filipino fans the story of two rival gangs set back in the 1950s in New York's urban jungle, Rappler said in a report.
The two enemy street gangs—called the Jets and the Sharks—are composed of immigrant teenagers in the Upper West Side.
UK TOUR. Here's how it looked in the UK (and probably here in the Philippines as well.)/VIDEO via ConcertUsManila on YouTube
Known to be inspired by William Shakespeare's Romeo and Juliet, The West Side Story tells a story of the fateful love affair between teenagers Tony and Maria. It has popularized songs such as "Tonight," "Somewhere," "America," "I Feel Pretty," and "Maria."
The West Side Story first hit the Broadway in 1957 and was highly-acclaimed for its choreography that changed the musical theater scene.
The West Side Story is considered by The Times as the "The No. 1 Greatest Musical of All Time." A movie version of it was also released in 1961, with over 10 Oscar awards, including Best Picture.
The Michael Brenner production of The West Side Story first toured London, Tokyo, Johannesburg, and Sydney.
To get tickets and check out the schedule, visit Ticketworld, call them at 02-891-9999 or email tickets@ticketworld.com.ph
Details:
What: The West Side Story
When: August 10 – 27, 2017; 3 p.m. (Saturday and Sunday) 8 p.m. (Tue. to Sun.)
Where: The Theatre at Solaire, Solaire Resort & Casino, 1 Aseana Avenue, Entertainment City, Paranaque City
Tickets: Php 7,000 (VIP), Php 5,800 (A Reserve), Php 4,500 (B Reserve), Php 3,500 (C Reserve), Php 1,500 (D Reserve), available via TicketWorld.com.ph
---
Written by: Gel Dumaraos
Sources: Rappler, Ticketworld