Gray Horizon at CCP: See Tondo, Manila in a new light
See the town of Tondo, Manila in an entirely new light as the Cultural Center of the Philippines (CCP) Visual Arts and Museum Division presents Gray Horizon, an exhibit that features Tondo, until July 23, 2017 at the Pasilyo Vicente Manansala (2F Hallway Gallery).
GRAY HORIZON. Here's the exhibit as it stands on CCP's Pasilyo Vicente Manansala (2F Hallway Gallery)./IMAGE CCP
Curated by Ricky Francisco, the exhibit featuring 36 new works by visual artist Ciron Señeres and introduces the audience to Tondo, the largest and most populous district of Manila.
Señeres discovered his distinct painting style of thick black and white in Tondo. It's a high contrast depiction of neglected nooks and crannies, broken things, and discarded material, in a still contemplation of the high drama in decay.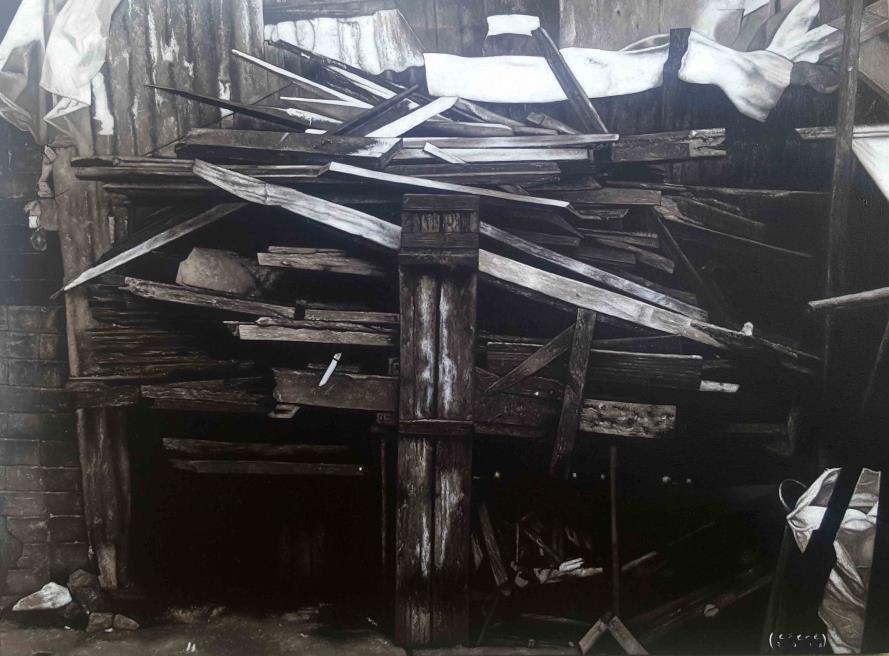 ONE OF THIRTY-SIX. One of the thirty-six pieces made by visual artist Ciron Señeres./IMAGE CCP
Located at the heart of Manila, Tondo has an area of 9.10 square kilometers and an average population density of 69,297 per square kilometer, one of the highest in the world. It is fielded by Manila's main slaughterhouse, its harbors, and communities that make their living by continuously burning driftwood to make charcoal; all of which add to its dinginess and grime.
It is notorious for poverty, slums, crime, and the ever present smoke of the fires from the charcoal pits and the burning garbage, which covers the horizon in a gray-black layer of haze and soot.
What would have been repulsive, Señeres has found rather beautiful. The struggle for human dignity, despite the tremendous odds, is a drama that unfolds daily in the dingy streets of Tondo, and in all honesty, much of Manila. This is what Señeres memorializes with Gray Horizon.
In the thirty-six works that comprise Gray Horizon, the audience is given a view of the city from its streets where chaos gives way to careful composition under the artist's watchful eye and keen sense of contrast. It is collaged into an artificial horizon which point to cross sections of the city, the city which Señeres understands.
The Pasilyo Vicente Manansala is located at the second floor of the CCP Main Building, CCP Complex, Roxas Blvd., Pasay City. For more information, contact the Visual Arts and Museum Division at 02-832-1125 loc. 1504/1505 and 02-832-3702, mobile 0917-603-3809, email ccp.exhibits@gmail.com, or visit www.culturalcenter.gov.ph.
Details:
What: Gray Horizon
When: June 21 – July 23, 2017
Where: Pasilyo Vicente Manansala (2/F Hallway Gallery), CCP Main Building, CCP Complex, Roxas Blvd., Pasay City, Metro Manila