Starbucks Philippines Coffee Appreciation Festival 2017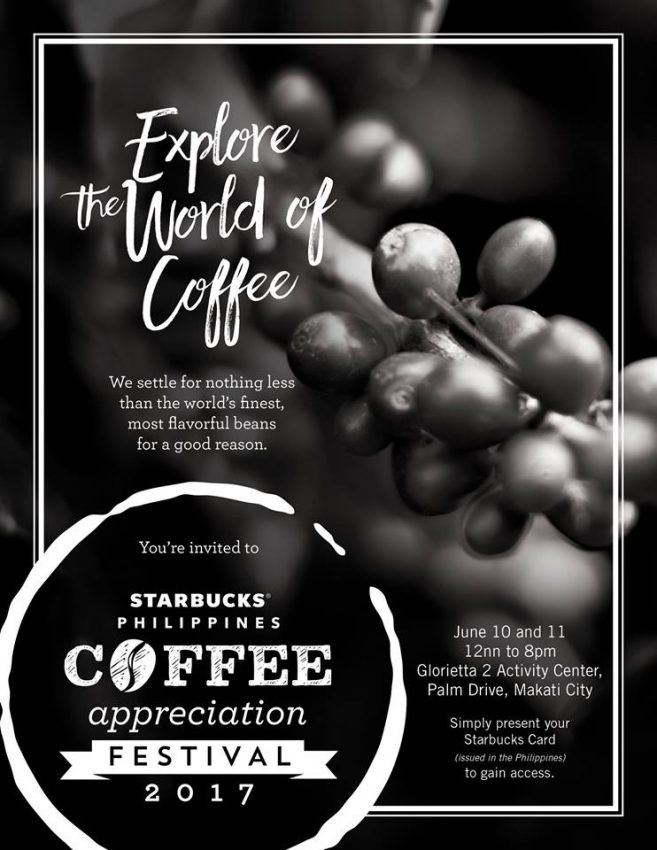 Raise your hands if you love coffee as Starbucks Philippines is back again with their Coffee Appreciation Festival this week. This year they have bean seminars such as "From Bean to Cup," a brief introduction on the journey of the coffee bean, coffee exhibits, Geography is a Flavor, an exhibit on the distinct flavors of Latin America, Africa/Arabica and Asia Pacific coffees, Coffee Innovations, a demonstration of the new brewing methods and unique product concepts, and Coffee Beyond the Cup, a showcase of coffee used in a different way.
To join the festival, simply present any Starbucks Card issued in the Philippines. One Card is equivalent to one coffee passport that you can use inside the event area.
For more details visit Starbucks Philippines on Facebook.
Details:
What: Explore the world of coffee at the Starbucks Philippines Coffee Appreciation Festival
Where: Glorietta 2, Activity Center, Palm Drive, Makati City
When: June 10 to July 11, 2017