Manga Hokusai Manga Exhibit on June 17-July 28 at Ateneo Art Gallery
Ateneo Art Gallery, The Japan Foundation, Manila and The Embassy of Japan in the Philippines are pleased to present the international travelling exhibition Manga Hokusai Manga: Approaching the Master's Compendium from the Perspective of Contemporary Comics.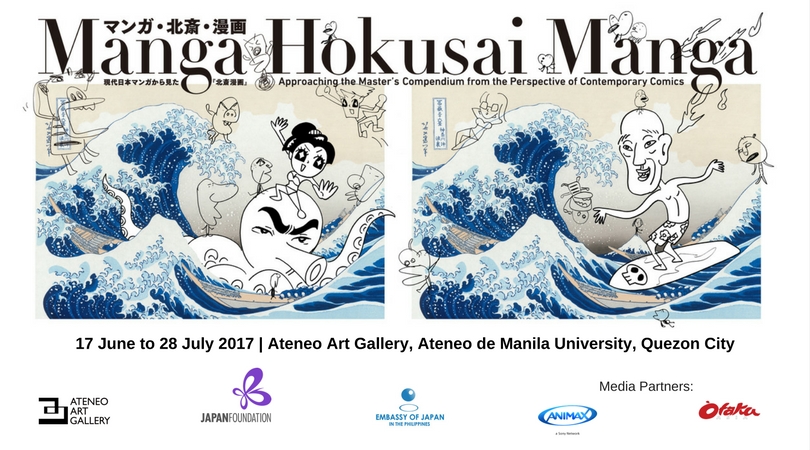 Open from June 17 to July 28, 2017, the exhibition introduces the similarities and differences between modern Japanese manga, which now enjoys global popularity, and Katsushika Hokusai's manga.
Katsushika Hokusai (1760-1849), best known for the woodblock print titled The Great Wave, called his collection of printed drawings "manga." Hokusai Manga contains an assortment of drawings varying in subject matter—from the humorous to the prosaic and instructional. This pictorial compendium is often associated with the origins of contemporary manga for its storytelling and visualization of movement. Over 200 years after its first volume was published, it continues to captivate people worldwide.
Prior to its exhibition in the Philippines at Ateneo Art Gallery, it has been shown in countries such as Italy, Belgium, Ireland and Vietnam. The exhibition in the Philippines will feature a reading corner, with the latest and classic manga from the Japan Foundation library.
Lectures and Activities:
Exhibiting Manga: Intentions, Difficulties, and Potentials
A lecture by Dr. Jaqueline Berndt | Director of the Exhibition and Professor of Japanese Language and Culture, Stockholm University
When: June 30 (Friday) – 3:30 p.m. – 5:00 p.m.
Making Manga: Basic Manga Creative Process Workshop
A workshop by Tintin Pantoja of Comic School Manila
When: July 15 2017 (Saturday) – 9:00 a.m. – 12:00 p.m.
Basic class open from ages 12 to above.
Free materials will be provided.
Manga and the 'Manga-esque': Shifting Definitions and Perspectives
A lecture by Dr. Karl Ian Uy Cheng Chua | Director of the Japanese Studies Program and Assistant Professor of the Department of History
When: July 20, 2017 (Thursday) – 3:30 – 5:00 pm
Both lectures and the workshop will be held at the Natividad Galang Fajardo Room, Dela Costa Hall, Ateneo de Manila University. Limited seats available in all events. Please email aag@ateneo.edu for reservations.
ADMISSION TO EXHIBITION AND EVENTS IS FREE OF CHARGE.
Details:
What: Manga Hokusai Manga: Approaching the Master's Compendium from the Perspective of Contemporary Comics
When: June 17 to July 28, 2017
Where: Ground Floor, Rizal Library, University Rd, Diliman, Quezon City, Metro Manila
---
Image and Information Source: ateneoartgallery, jpf.go.jp