The Great BDO Travel Sale: Discounted airfares to New York, Tokyo, Paris and Seoul
Put your BDO Rewards, Credit, and Debit Card to good use and travel to Australia, New Zealand, Japan, the US, China, Guam, Korea, and Europe at The Great BDO Travel Sale, happening tomorrow at the SMX Convention Center Aura!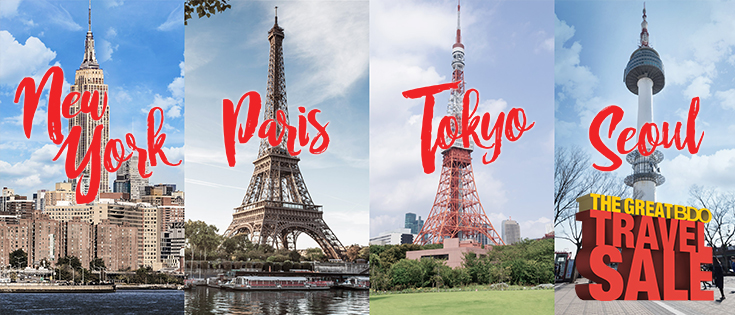 Get airfares for as low as US$ 400 to Australia via Philippine Air Lines, US$ 290 to Japan via JAL, US$ 525 to US with Asiana Airlines, and US$ 604 to Europe with Qatar Airways.
You can also score discounted rates to New Zealand, China, Guam, and Canada on Cathay Pacific, Air China, United Airlines, and Korean Air respectively! Apart from airfare, you can also grab great discounts to travel tours and packages from participating airlines and travel agency partners simply by being a BDO Rewards Card, Credit Card, or Debit Card holder!
All you need to do is to be at the SMX Convention Center Aura tomorrow, June 2, until June 4 with your BDO Mastercard, Visa, UnionPay, JCB, Diner's Club (straight transactions only), or American Express Card to get these fantastic discounts!
Don't have any BDO Credit Cards? Don't fret! You can still avail of these discounts with your BDO Debit Card, Cash Card, or any of the BDO Rewards Cards!
If you want to know more about The Great BDO Travel Sale, visit bit.ly/BDOTrvlSaleJun17.
*Terms and Conditions apply.
Details:
What: The Great BDO Travel Sale
When: June 2 – 4, 2017; 10 a.m. – 8 p.m.
Where: SMX Convention Center Aura, SM Aura Premier, 8 McKinley Pkwy., Taguig City, Metro Manila