Catch Restored Classics at Circuit's Pop-up Night Cinema
A movie night is still one of the best ways to relax after a hot summer's day in Metro Manila. It's ridiculously easy to set up (just find a movie you want to watch at home or in a mall), get some grub, gather your friends, and you're good to go.
Finding good movies may all be down to personal taste, but nothing says a great movie night quite like the classics. If you're having problems finding good-quality classics (and by that we mean no blurred images or extremely faded colors), then make your way to the Globe Circuit Events Grounds for this month's Pop-Up Night Cinema from May 19-21 featuring ABS-CBN Restored Classics!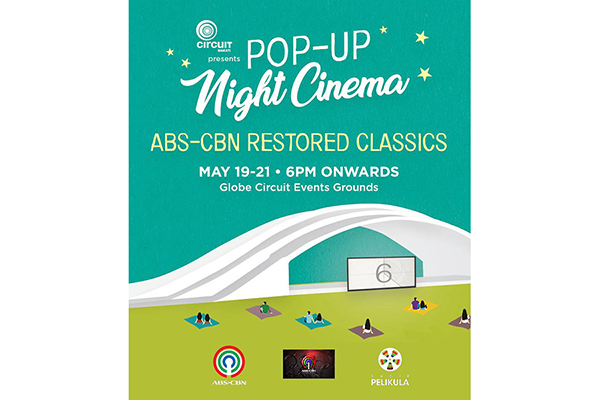 IMAGE Circuit Makati
Watch some of the best and most popular films from the ABS-CBN archives under the (hopefully) clear summer skies and stars at one of the most beautiful parks in Makati! Get a chance to see films like "Got to Believe (2002)," "Sarah, Ang Munting Prinsesa (1995)," and the widely popular "Magic Temple (1996)."
MOVIE LINE-UP. Here's the complete set of movies for this edition of Pop-Up Night Cinema./IMAGE Circuit Makati
Here's the best part: you can catch these movies all for FREE! All you need is to show up, find a spot, and watch Filipino classics! Also, if you're one of those people who hasn't got their Filipino down pat, don't fret! All movies will be subtitled!
Catch this month's Pop-Up Night Cinema: ABS-CBN Restored Classics from May 19-21 at the Globe Circuit Events Grounds from 6:00 pm onwards.
Details:
What: Pop-Up Night Cinema: ABS-CBN Restored Classics
When: May 19 – 21, 2017; 6:00 pm onwards
Where: Globe Circuit Events Grounds, A.P. Reyes Ave., Hippodromo, Makati City
Free of charge