DreamPlay holds first "Trolls Sing Off" for Children
Calling all parents who have kids ages 6-12 years old who has passion for performing! DreamPlay, City of Dreams Manila's interactive play space will hold their first ever "Trolls Sing Off".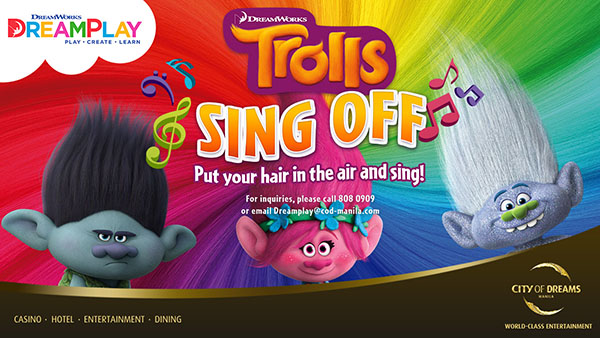 Winners will get a chance to win a P20,000 in cash, vouchers, and an overnight stay at Nobu Manila! All have to do is perform any song from "The Trolls" soundtrack.
Here's a detailed information on how you can join in this exciting competition:
COMPETITION MECHANICS
Contestants may fill out the entry form at DreamPlay. Interested parties may also send an email request to dreamplay@cod-manila.com. Copy of the Entry form shall be send to the contestant's email address.
Contestants shall submit their entry form together with a copy of their birth certificate and parent/guardians copy of identification card to DreamPlay, City of Dream Manila. Submission of entry form is from April 16, 2017 to May 7, 2017. Upon submission of the requirements, competition date shall be given to the contestants.
Employees of MCE Leisure Philippines Corp., its advertising agency, and promo organizers including their relatives up to second degree of consanguinity or affinity are disqualified to join the contest.
All official contestants shall be required to perform any song from Trolls Movie Soundtrack.
Contestants may join the elimination round only once.
Contestants who will pass the elimination shall compete in the semifinals.
Weekly Eliminations are scheduled on the following dates:
Submission  of Entries       
Eliminations Date
April 16-22
April 23, 2017
April 23-29
April 30, 2017
May 1-7
May 13, 2017
May 1-7
May 21, 2017
Semifinals are scheduled on May 7 and May 28
The semifinals winners will be performing on the grand final on June 12, 2017, 2PM at DreamPlay, City of Dreams Manila.
---
Source: www.cityofdreamsmanila.com