LIST: 9 reasons to spend your summer at Circuit Makati
Summer naturally prompts road trips to the beach and laid-back days spent under the sun… but that doesn't mean you can't do anything in the city! Urban destinations are typically an off-the-beaten-path option during summer, but Circuit Makati just gave us nine compelling reasons to take this road-less-traveled to make our summer the best it can be without leaving the city.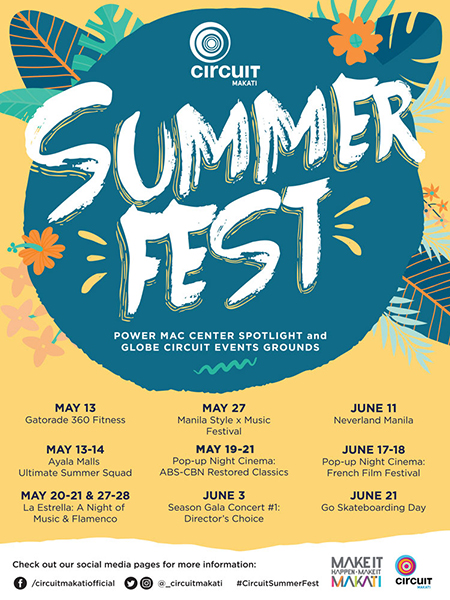 Here are some things you can check out for the next two months:
MAY 2017
Summer is almost over, but that doesn't mean you can't enjoy the last few weeks of the summer heat:
Get fit (Gatorade 360 Olympics, May 13)
Venue: Globe Circuit Events Grounds
Getting that perfect summer body is never too late! If you need a little bit of a push, head to Circuit Makati's 360 Fitness Club—the known pioneer for non-traditional, functional circuit training in the country that ultimately revolutionized the local fitness industry.
You can catch members challenge their skills as they embark on a friendly showdown of their fitness capabilities. Gatorade 360 Olympics 2017 is meant to draw fitness enthusiasts all over the city in an effort to promote the merits of a healthy lifestyle.
Assemble the squad (Ayala Malls Ultimate Summer Squad, May 13 to 14)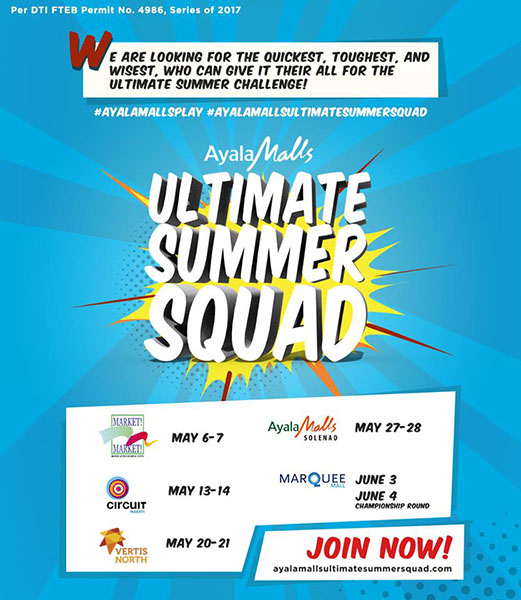 Venue: Globe Circuit Events Grounds
Gather the squad and test your teamwork by joining Ayala Malls' Ultimate Summer Challenge!
It's a game show-inspired playground where 15 of the quickest, toughest, and wisest squads will battle it out to become the ultimate summer squad and win an ultimate summer getaway at Seda Hotel Nuvali with full day pass to Republic Wake Park, 3D/2N stay in Sicogon IloIlo or 3D/2N at Casa Kalaw, El Nido Palawan with airfare.
To register, visit www.ayalamallsultimatesummersquad.com.
Go on a free movie date (Pop-Up Night Cinema presents ABS-CBN Restored Classics, May 19 to 21)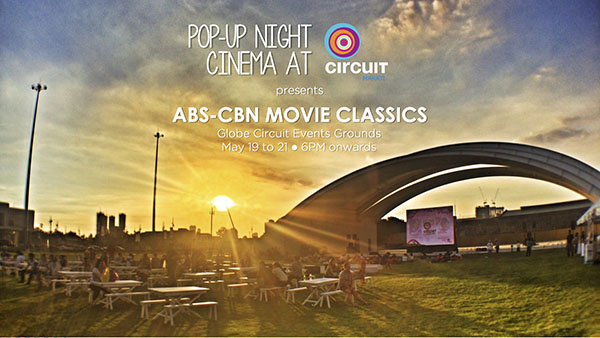 Venue: Globe Circuit Events Grounds
With the success of the previous Pop-Up Night Cinema last year, Circuit Makati hosts once again a unique movie experience under the stars. This year, they'll showcase remastered ABS-CBN films that Filipinos loved through decades!
Admission to the Pop-Up Night Cinema is free of charge. Yes. FREE. OF. CHARGE. So get ready for magical experience, and bring your mats, snacks, family and friends!
Get a Spanish sampler (La Estrella, A Night of Music and Flamenco, May 20-21 & 27-28)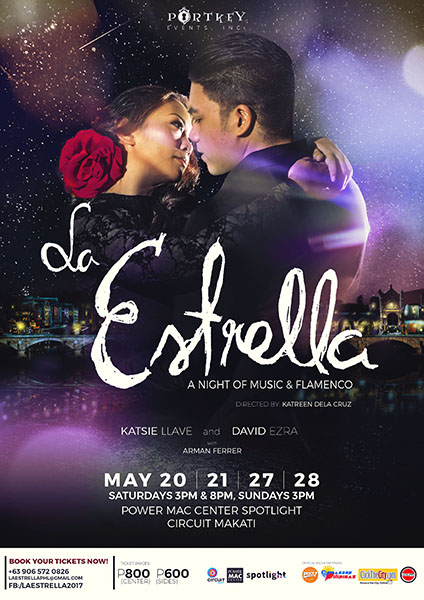 Venue: Power Mac Center Spotlight
Experience a taste of Spain and follow the life of Carina (Katsie Llave), and her childhood best friends, Alejandro (David Ezra) and Ricardo (Arman Ferrer), through their journey of life and love.
Witness their journey through dance and music. First of its kind, this Flamenco/Classical/Musical Theater showcase directed by Katreen Dela Cruz, will be shown at the Power Mac Center Spotlight.
Tickets are now available at www.ticketworld.com.ph.
Rock out to summer anthems (Manila Style X Music Festival May 27)
Venue: Globe Circuit Events Grounds
Already on its second year, the pioneer of the country's first Fashion and Music festival is once again bringing the Philippines' biggest stars, designers and stylists to walk in summer's hottest fashion show.
To make things more exciting, artists such as Bamboo, KZ Tandingan, Kiana Valenciano, Sam Concepcion, Curtismith, Jess Connelly, Franco, Saydie, The Juans, Tukar Sinati, A-Team and international singer William Singe.
Also included in the line-up are the metro's hottest DJs: Tom Taus, Ron Poe, Patty Tiu, and Carlo Atendido!
This is done in partnership with the country's biggest online magazines like, Chalk, Candy, and Meg featuring their own roster of celebrities and models who will grace the stage clad in this year's most coveted fashion trends.
Tickets are now available at www.ticketworld.com.ph.
Also read: Manila X Festival 2017
JUNE 2017
Summer's nearly over by this time, with rains starting to pour in every so often. But that doesn't mean summer is completely over:
Spend a night with MSO (Manila Symphony Orchestra's Season Gala Concert #1: Director's Choice June 3)
Venue: Power Mac Center Spotlight
Immerse yourself in a night filled with music that can soothe your soul, as Principal Conductor and Artistic Director Arturo Molina continues to demonstrate his mastery of the world's symphonic repertoire with romantic and classical compositions. Slow down this summer and witness the world-class repertoire of the Manila Symphony Orchestra!
Get your tickets now at www.ticketworld.com.ph.
Unite with other Dreamchasers (Neverland Manila Presents Young Gunz June 11)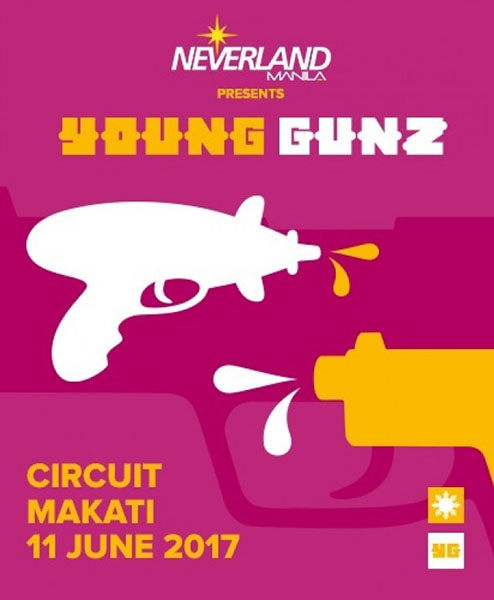 Venue: Globe Circuit Events Grounds
Calling all party goers! Get your party hats ready for the most awesome party of the year! Europe and Asia's most anticipated EDM festivals is finally landing on Philippines shores—at Circuit Makati this 2017!
Presented by Neverland Manila, Young Gunz arrives complete with international production, spectacular designs, and an awesome line-up that will bring freedom and the diversity of music.
It's an event that your squad can't afford to miss. Buy your tickets now at www.smtickets.com to get a hold of their Early Bird promos! (Regular GOLD Phase 1: Php1,575 (April 10-May 16), Regular GOLD Phase 2: Php2,100, VIP Standing: Php2,625)
Also read: Neverland Manila 2017 presents Young Gunz
French up the night (Pop-Up Night Cinema presents the French Film Festival June 17 to 18)
Venue: Globe Circuit Events Grounds
Journey through the land of love as the Embassy of France and Ayala Land partners to bring you the 21st French Film Festival this June 17 & 18!
Discover, appreciate and get that "kilig" moment while watching French curated films with your friends and loved ones.
Skate to your heart's content (Go Skateboarding Day June 21)
Venue: Mountain Dew Skate Park
If you're a fan of skateboarding or someone who love to skateboard, be sure to be in Circuit Makati on this June to satisfy your hunger for the sport. Go Skateboarding Day is an annual holiday created by International Association of Skateboard Companies (IASC) in 2004, aiming to promote the sport skateboarding accessible to everyone around the world.
Stay stoked and experience a day with local skaters this summer only in the city that makes it happen!
With this list, you should be set until the midyear festivities kick in. There's more to come, so make sure you keep an eye out for the latest announcements from the country's preferred entertainment playground, Circuit Makati.
"This district is defined by its thoughtful mix of entertainment, cultural and leisure options for everyone in the family. So if you're looking for activities to fill your summer calendar, you really don't have to look further than the city," shares Cathy Bengzon, Ayala Land Head of Marketing.
For more information about the city that makes it happen, visit www.makeitmakati.com/district/circuit-makati or like and follow Circuit Makati on Facebook, Twitter, and Instagram.
---
This is a press release from Circuit Makati. Minor edits have been made prior to publishing.