The Philippine Madrigal Singers in Boom! Pak!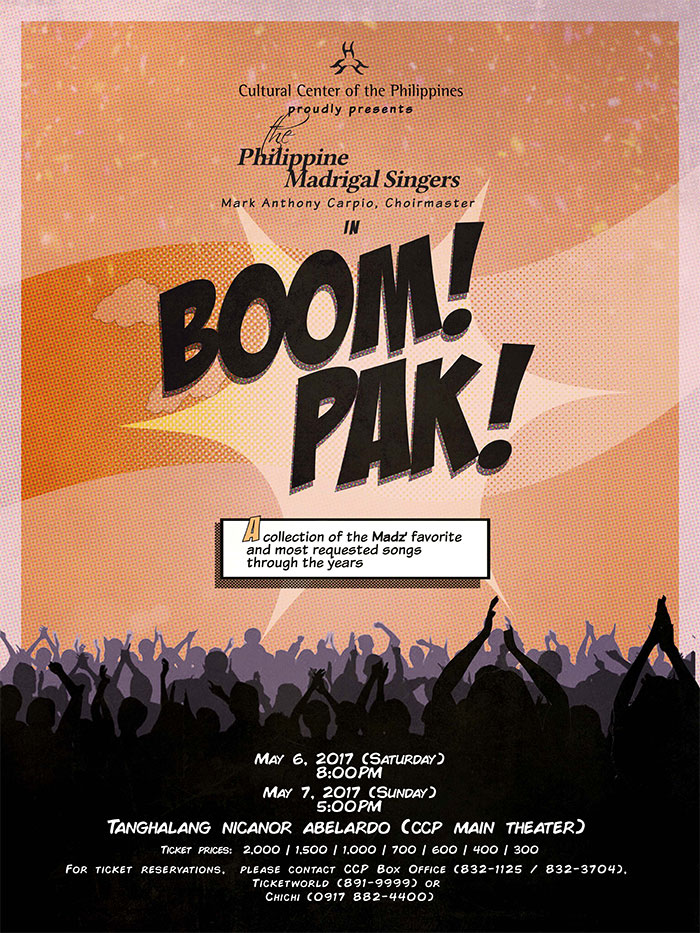 IMAGE/ Ticketworld
Be amazed with one of the country's famous ensemble — The Philippine Madrigal Singers — in their upcoming show titled Boom! Pak!, on May 6 and 7, at the Tanghalang Nicanor Abelardo, CCP Main Theater, Roxas Blvd. in Pasay City.
The Philippine Madrigal Singers are composed of students, faculty, and alumni from different colleges of the University of the Philippines. They are one of the world's most awarded, having consistently won all the top prizes in most of the world's prestigious chorale competitions.
Expect some of their favorite and most requested songs to be performed LIVE from Renaissance music, Classical music, Filipino and International folksongs, contemporary and Avant-garde music, Opera and even popular music!
Get your tickets now at www.ticketworld.com.ph or call (02) 891-9999
Event details
What: The Philippine Madrigal Singers in Boom Pak
When: May 6 (8:00 p.m.) May 7 (5:00 p.m.)
Where: Tanghalang Nicanor Abelardo, CCP Main Theater, Roxas Blvd. in Pasay City
Ticket prices
P 5,150
Price Zone 1
(Parterre Boxes)
P 2,060
Price Zone 2
(Orchestra Center
& Lower Boxes)
P 1,545
Price Zone 3
(Select Orchestra Sides)
P 1,030
Price Zone 4
(Orchestra Sides
& Upper Boxes)
P 721
Price Zone 5
(Balcony 1 Center)
P 618
Price Zone 6
(Balcony 1 Sides)
P 412
Price Zone 7
(Balcony 2 Center)
P 309
Price Zone 8
(Balcony 2 Sides)
---
Source: Ticketworld