Via Dolorosa: An art exhibit by Ang Kiukok
Via Dolorasa by award-winning artist Ang Kiukok is on exhibit at the Finale Art Museum from April 11 to April 29.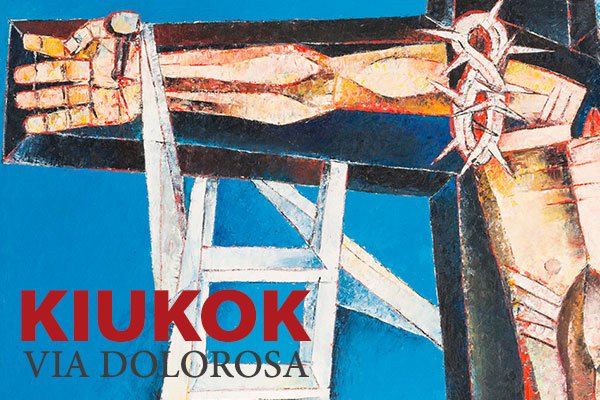 The compelling set of images depicting the Via Dolorasa by Ang Kiukok was commissioned by a private collector in the mid-1990s. It was never exhibited, nor installed in a church. In this series made over a few years, the artist documented his vision of Christ and his passion.
"Rejecting the often saccharine and idealized images of the Stations of the Cross, Ang instead focused on the intensity of Christ's passion. The faces are rendered with the barest details. Bodies are simple geometric shapes. The Redeemer is depicted in his white robes, later removed when the Roman soldiers cast lots for it, as predicted by Scripture. The limp body is then brought down from the cross for subsequent burial. It was a man that was made to bear the cross and endure the crucifixion in order to save mankind. Ang the artist paints a most vivid and painful set of pictures to drive home this point." — Finale Art Gallery
About the Artist


ANG KIUKOK. IMAGE davaocitybybattad.blogspot.com
Ang Kiukok is a great Filipino Artist, Master Painter, Visionary Genius, Pioneering Modernists, Figurative Expressionist, Dynamic Cubist, and Surrealist, and National Artist. Born in Davao in 1931 as the first child and only son to Chinese immigrant parents, Ang was also the first in his family to be born in the Philippines. From an early age, he showed a penchant for drawing and was asked to create the backdrops for school plays and other activities. He studed Fine Arts at the University of Sto. Tomas under master painters and teachers that included Dean Victorio Edades and Vicente Manansala, as well as Diosdado Lorenzo, Jose Garcia Llamas, Botong Francisco, Galo Ocampo, Virginia Ty and Francesco Monti. On May 9, 2005, Ang Kiukok died of prostate cancer at the age of 74 in Quezon City, Philippines.
The exhibit is still on going until April 29, 2017 at the Finale Art Gallery.
Details:
Address: Warehouse 17, La Fuerza Compound (Gate 1), 2241 Chino Roces Ave., Makati City, Philippines
Tel: 02-813-2310, 02-812-5034
Business Hours: Monday to Saturday, 10AM to 7PM
---
Source: davaocitybybattad, finaleartfile
Ang Kiukok's Portrait Image from davaocitybybattad