Triumph of the Spirit Art Exhibit by Juvenal Sanso at Alliance Française de Manille in Makati
Triumph of the Spirit Art Exhibit by Juvenal Sanso at Alliance Française de Manille in Makati
See the works of Juvenal Sanso in this art exhibition at Alliance Française de Manille!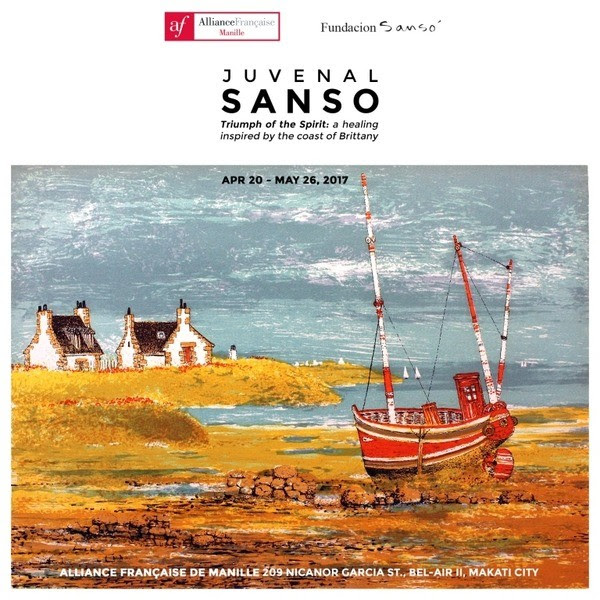 The Alliance Française de Manille and Fundacion Sanso, in cooperation with the Embassy of France to the Philippines, present an exhibition of the works of the renowned visual artist, Juvenal Sanso entitled The Triumph of the Spirit: a healing inspired by the coast of Brittany.
The exhibition will be opened by Ms. Gilda Socorro Salita, Director of Fundacion Sanso, in the presence of H.E. Thierry Mathou, French Ambassador to the Philippines. This collaboration is a fitting tribute for this year's commemoration of the 70th year anniversary of the establishment of diplomatic ties between the Philippines and France.
The exhibition Triumph of the Spirit is a meditation on several texts chosen in relation to Sanso's early works, the post-war trauma that is the springboard for his creative process, and the timelessness of the message of hope, particularly in this time where recent attacks to Sanso's beloved Paris have been made.
In essence, this exhibit, which celebrates the spirit of the artist, is construed as an act of solidarity to the people of France, and is a celebration of the strength of the human spirit against adversity. Another component is his transition from his black period to his Brittany series, which is an admiration of the coast of Brittany.
Opening night will be on April 20, 2017, 6:30 pm at the Alliance Française de Manille Total Gallery.
Details:
What: Juvenal Sanso Art Exhibit
When: April 20, 2017, 6:30 pm
Where: Alliance Française de Manille Total Gallery, 209 Nicanor Garcia St., Bel-Air II, Makati City
Website: www.alliance.ph
Facebook page: www.facebook.com/alliancefrancaisedemanille
Attire: Smart Casual
Email: tzapanta@alliance.ph
FREE Admission