Powered-faith musical "Godspell" LIVE in Manila
Powered-faith musical, Godspell is heading to Manila on select dates of May, at the Carlos P. Romulo Auditorium in RCBC Plaza, Makati City.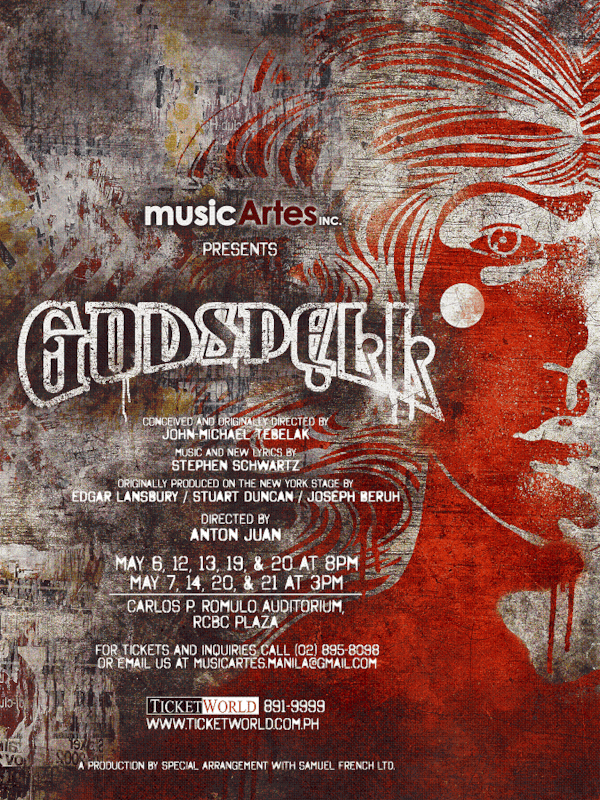 Directed by award-winning Aliw Hall of Fame awardee, Dr. Anton Juan, the story will be told through a series of musical teaching moments, and will be joined by powerhouse cast, Jef Flores, Myke Solomon, Shiela Valderrama-Martinez, Caisa Borromeo, Poppert Bernadas, Topper Fabregas, Abi Sulit, Maronne Cruz, Rhenz Gabalonzo, Gab Pangilinan and Menchu Lauchengco-Yulo.
Raise your spirits as this play will include Tony-nominating scores "Day By Day", "Learn Your Lessons Well", "By My Side", and  "Turn Back, O Man."
So mark your calendars and witness a hauntingly good tale of friendship, loyalty, and love at Godspell!
Event details
What: Godspell 2017
Where: Carlos P. Romulo Auditorium in RCBC Plaza, Makati City
Schedule
Saturday, May 6, 2017 8:00 PM
Sunday, May 7, 2017 3:00 PM
Friday, May 12, 2017 8:00 PM
Saturday, May 13, 2017 8:00 PM
Sunday, May 14, 2017 3:00 PM
Friday, May 19, 2017 8:00 PM
Saturday, May 20, 2017 3:00 PM
Saturday, May 20, 2017 8:00 PM
Sunday, May 21, 2017 3:00 PM
Ticket details
Price Zone 1- ₱2,612.50
Price Zone 2- ₱2,090
Price Zone 3- ₱1,567.50
Price Zone 4-₱1,045
Tickets are available at Ticketworld
Sources: www.mtishows.com,Ticketworld