Air-mazing Race 2017 in BGC
Join the fun and be part of the Air-mazing Race on April 29, 2017 at the Bonifacio Global City, Taguig.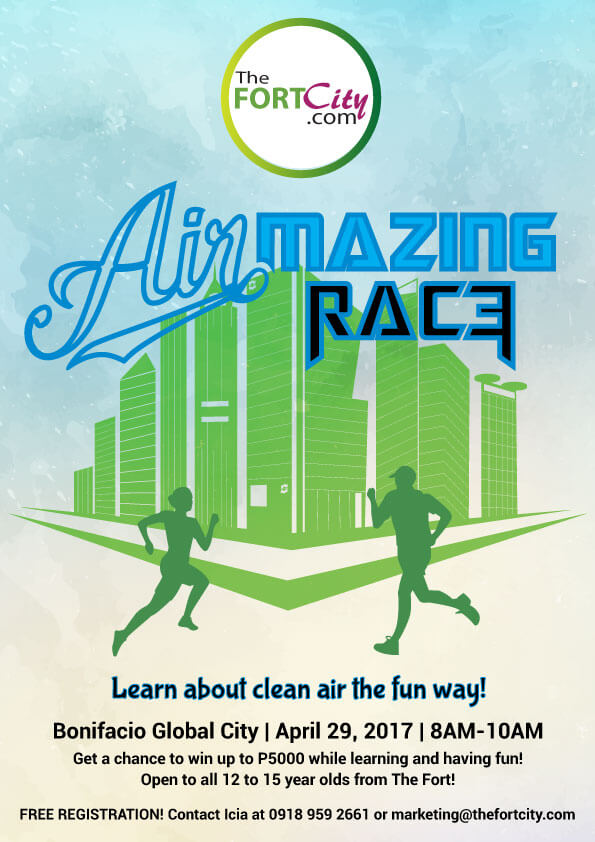 This event aims to promote awareness of clean air related issues in the society. Plus! You might even get a chance to win up to P5,000!
Here's what you have to do:
There will be 12 teams with 3 members each, ranging from 12-15 years old (might be from schools and residents of BGC) and the competition will be finding designated "stops" as fast as possible.
Each team is required to answer and accomplish physical challenges to get clues for their next stops. Questions will be related to air quality, and each stops are only located within BGC.
Each team is recommended to have 1 smartphone equipped with GPS, or a good internet connection to answer some questions on each stop (if required)
Please be reminded that parents are not allowed to follow their child during the race. There will be a designated for parents, which will be announced on the day of the event.
Cash prizes will be given to top 3 teams (P5,000  first place,P2000 second place, P1000 third place).
Register HERE for FREE!
Details:
What: Air-mazing Race 2017
When: April 29, 2017 (8:00 a.m. – 10:00 a.m.)
Where: Bonifacio Global City, Taguig
Source: www.thefortcity.com