All Time Low's 'The Young Renegades Tour' in Manila
American rock band All Time Low is coming back in Manila for "The Young Renegades Tour." Happening on August 22, 2017 at the Mall of Asia Arena, be prepared to rock, sing, and jump to All Time Low hits including "Dear Maria, Count Me In," "Backseat Serenade," and "Something's Gotta Give".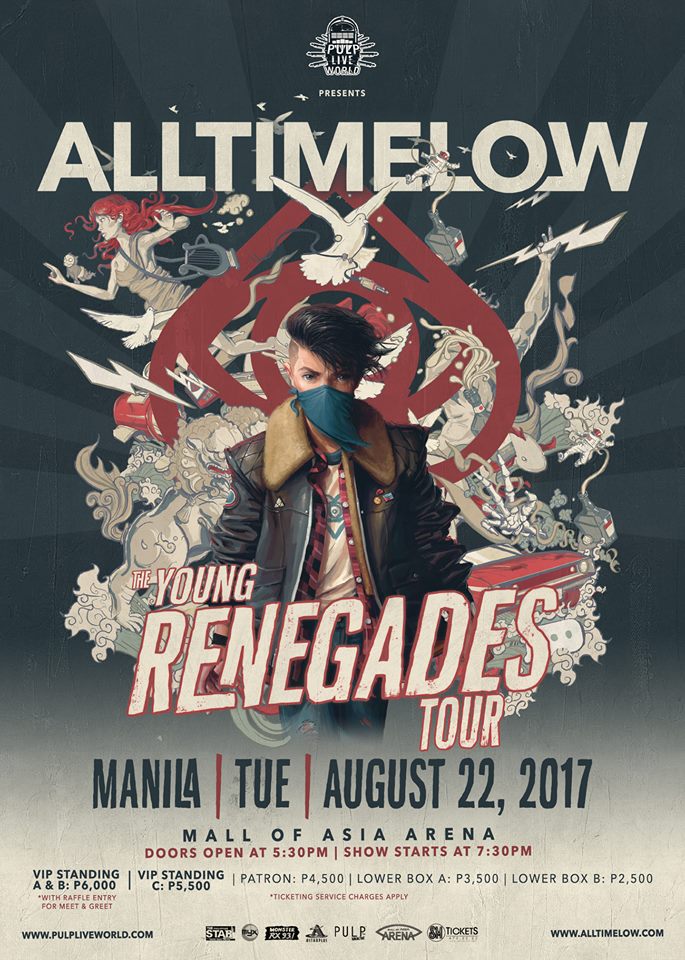 All Time Low, composed of Alex Gaskarth (lead vocals, guitar), Jack Barakat (backing vocals, lead guitar), Zack Merrick (bass guitar, backing vocals), and Rian Dawson (drums, percussion), started out as a high school band covering Blink-182 songs back in 2003. As of now, they have 6 albums: "The Party Scene", "So Wrong, It's Right", "Nothing Personal", "Dirty Work", "Don't Panic", and "Future Hearts". Their seventh album, "The Last Young Renegade," is set to come out on June of this year.
Tickets start at P2500 (Lower Box) and will be on sale starting April 2, 2017 online and in SM Tickets outlets. For more information, you may visit All Time Low's Facebook page, or PULP Live World's website.
Details:
What: All Time Low The Young Renegades Tour
When: August 22, 2017, 7:30 pm
Where: SM Mall of Asia Arena
Tickets: Available online and through SM Tickets outlets
VIP Standing A and B: P6000 (with raffle entry for meet and greet)

VIP Standing 6: P5,500

Patron: P4,500

Lower Box A: P3,500

Lower Box B: P2,500