GETMUSIC INDIE-GO at the Mall of Asia Arena
What would happen if 10 celebrated indie artists in the Philippines performs together in one stage? MCA Music Inc. makes it possible through their upcoming show, GETMUSIC INDIE-GO, which will happen on May 20, 2017, at the Mall of Asia Arena.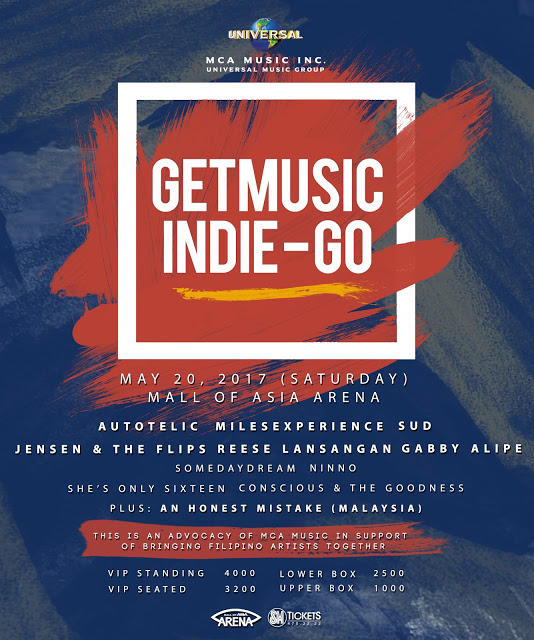 Philippine Label Giant MCA Music Inc. supports the latest and the best, through its advocacy of bringing filipino artists together.
Philippines has always been a wellspring of hardworking talents who both dare to let their voices be heard, and who brave the odds of getting their music out – being a land with an abundance of independent songwriters and music creators.
Which is why MCA Music Inc., one of the largest and continuously adventurous labels in the country, aims to be at the forefront of this creativity and spark the young, independent minds and talents of the finest musicians from our millennia by creating one of the biggest local music festivals yet: GETMUSIC INDIE-GO, an assembly of the finest independent bands and artists from within its world-class roster, to be showcased alongside this generation's up-and-coming college bands who aren't afraid to display their wares and know-how side-by-side with the best.
Both an advocacy and an elaborate, first-of-its kind gathering of greats, audiences can expect a wonderfully rich and diverse lineup of bands who have in one way or another stretched the boundaries of traditional music and helped shape what is known to be the "millennial-sound"
List of performers:
AUTOTELIC
SUD
JENSEN&THE FLIPS
SOMEDAY DREAM
CONSCIOUS & THE GOODNESS
MILES EXPERIENCE
SOMEDAYDREAM
NINNO
SHE'S ONLY SIXTEEN
REESE LANSANGAN
URBANDUB'S GABBY ALIPE
GETMUSIC INDIE-GO promises to be anything but your run-of-the-mill concert: because the festival also features international MCA Music artist, Malaysia's powerhouse rock outfit AN HONEST MISTAKE, who promise to bring the goods and the proverbial house down as well, and prove that this is – indeed – a celebration that's going to be heard, and one that will make waves, around the world.
Ticket prices:
VIP Standing – Php4000
VIP Seated – Php3200
Lower Box – Php 2500
Upper Box – Php 1000
General Admission – Php600
To avail, inquiries and reservations, call (02) 470.2222. You can also keep posted to MCA Music's Facebook page: facebook.com/mcamusic for more information on developments of the show.
Watch the music videos of some of the performers:

"Hey Daydreamer" – Somedaydream
"Evidence" – Urbandub
"Grammar Nazi" – Reese Lansangan
"Sila" – Sud
"Dahilan" – Autotelic
(This press release has been edited.)