Three – day Performance Literature Festival at CCP
Performatura 2017: Performance Literature Festival, a project of the Cultural Center of the Philippines (CCP) through the CCP Intertextual Division, was introduced in a press conference held recently at the Diamond Hotel. It will be held from March 31 to April 2 at various CCP venues.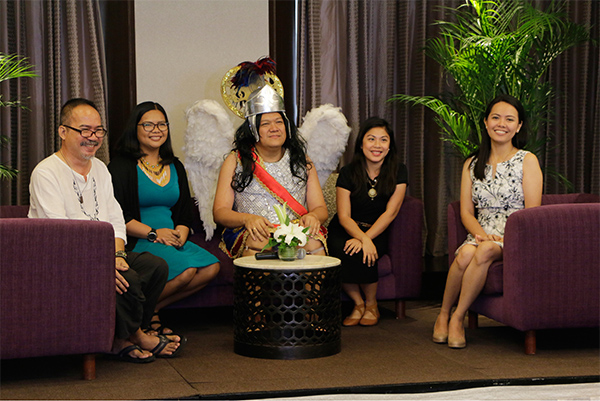 From left: Mr. Leo Castro of Sanghabi, Ms. Fleur Panga of Sanghabi, Mr. Vim Nadera (Performature 2017 festival director) wearing an archangel costume, Ms. Posh Develos of Pinoy Storytellers Group, and Ms. Berna Manipon of Theater in Alternative Platforms. (Photo by Kiko Cabuena)
Performatura 2017 is a performance literature festival celebrating the intersections of the written word and performance. The word Performatura is a mash up of the word performance and orature or oral literature. Orature is a term coined by Ugandan linguist Pio Zirimu who wanted to raise oral literature to the level of written literature.
CCP Vice President and Artistic Director Chris Millado. (Photo by Kiko Cabuena)
The festival theme is "Sa Loob at Labas ng Bayan Kong Sawi" (Within and Without My Sorrowful Country), taken from Florante at Laura, the masterpiece of Francisco "Balagtas" Baltazar. Balagtas' spirit likewise animates Performatura as various artists give life to his body of work.
It features poetry readings, cultural performances, film showings, marathon readings, book fair, and interviews with renowned artists and writers from 9am to 9pm. Entrance to the festival is free and open to the public, though everyone is encouraged to donate a book as a price for admission. Each donation will go to CCP's Aklatang Bayan, a project of the CCP Library.
This is a press release edited for publishing.