Let the pre-Summer 2017 shopping begin at AWCP's Bazaar
The third installment of the AWCP Monthly Bazaar for 2017 is only a few days away!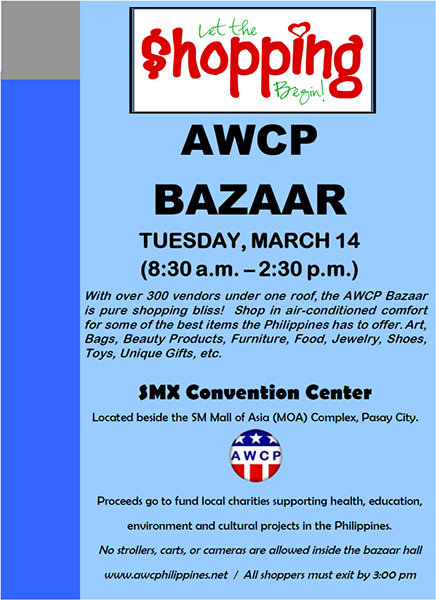 With over 300 vendors under one roof, the AWCP Bazaar is, quite literally, pure shopping bliss. Get the widest range of Philippine-made items to choose from under the cover of the SMX Convention Center.
The AWCP Bazaar features art, bags, beauty products, furniture, food, jewelry, shoes, toys, unique gifts, and more! The best part: proceeds of the event go towards funding local charities supported by the AWCP!
Start your pre-Summer 2017 shopping spree at this month's AWCP Bazaar, happening on Tuesday, March 14 from 8:30 am to 2:30 pm at the SMX Convention Center, Seashell Lane, SM Mall of Asia Complex, Pasay City.
Details:
AWCP Bazaar
March 14, 2017, 8:30 am – 2:30 pm
SMX Convention Center, Seashell Lane, SM Mall of Asia Complex, Pasay City