Cosplay Carnival 2017
Join a colorful and fun-filled festival highlighting the Japanese costume play culture at "Cosplay Carnival" on March 25-26, 2017 SMX Convention Center in Pasay City.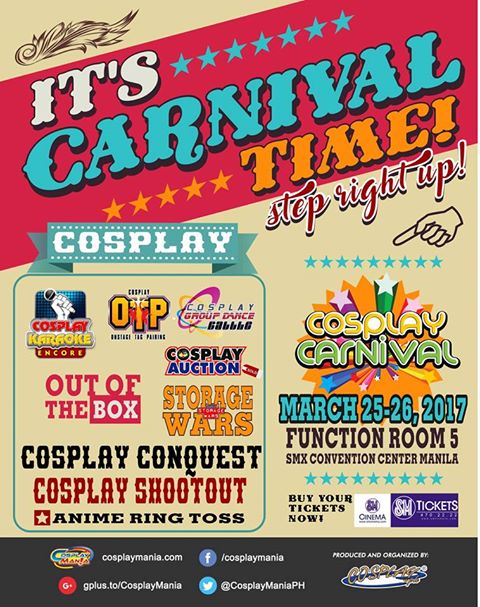 Image grabbed from smtickets.com
Cosplay Carnival 2017 will feature exciting competitions such as Cosplay Karaoke, Cosplay OTP, and Cosplay Group Dance Battle.
In this event, attendees will also enjoy other activities including Out-of-the-Box photo booth, Cosplay Con Quest, Cosplay Shootout, and Anime Ring Toss.
For those looking for some great deals or want to sell their own items to the highest bidder, join the Cosplay Auction and Storage Wars.
Cosplay Carnival 2017 is filled with great off-stage activities and on-stage highlights as a special cosplay guest will grace the event: HaoGe—one of China's most eye-popping cosplayers.
Buy your tickets now at smtickets.com and avail their early bird promo until March 15, 2017 for only P199.
DETAILS:
What: Cosplay Carnival 2017
When: March 25-26, 2017
Where: Function Room 5, SMX Convention Center Manila, Mall of Asia Complex, Pasay City
Ticket Information: smtickets.com
Source: cosplaycarnival, cosplay.ph, smtickets.com