Aia, Barbie and Kitchie Join Forces for Repeat Concert
After the successful turnout of their first major show as a trio, Aia de Leon, Barbie Almalbis, and Kitchie Nadal are headed back to the big stage for Secrets: The Repeat Concert, happening at the Music Museum on February 17, Friday at 7:30 pm.
With anthemic hits that provided a soundtrack to an entire legion of Filipino music fans, Aia, Barbie, and Kitchie promise to deliver intimate, powerful and captivating performances that would surely triumph its predecessor in terms of choice cuts and production values.
Secrets Background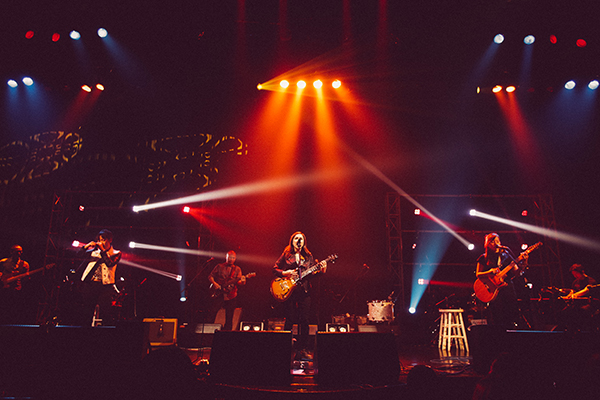 The sold-out Secrets concert held last December 10 at the Music Museum was a surprise success, earning gleaming praises from music critics and fans, with social news network Rappler calling it "a fantastic night of music with a sense of intimacy and connection not often experienced at larger scale events."
Philippine Star's Alex Almario also wrote an honest but glowing review of the show, emphasizing that "it was beautiful to see, especially on a night that was not supposed to be about nostalgia."
Billboard Philippines considered it "a treat for everyone – for the artists, an interactive experience that allowed each of them embrace their individuality and for the fans, a chance to partake in reigniting their journey in their music."
Secrets also became a hot topic in social media, trending on Twitter Philippines during the entirety of its 3-hour run.
Group Numbers and Special Guest
Aside from the solo performances, #AiaBarbieKitchie will team up for a collaborative number featuring an arsenal of beloved romantic anthems that fit the Valentine's Day canon. Adding up to the excitement and fun is acclaimed singer-songwriter Ebe Dancel, who will be joining Secrets for a surprise number.
New Material
The concert will also give us a peek of the trio's new material. Just recently, Aia de Leon debuted her new single "Sa'yo" on Spotify under Warner Music. The guitar-pop ballad is reminiscent of her previous hits "Tao Lang" and "Sundo" — the latter, a huge radio smash with her previous band, Imago. The track will be part of her upcoming debut solo effort to be released soon.
Kitchie Nadal also re-released her single "Wandering Stars", which recently premiered on Jam 88.3. This time, Kitchie explores a different sonic approach that serves as a refreshing contrast to her pop-rock roots: ethereal vocals over skittery electronic textures, with prominent drum n' bass and trip-hop influences merged in the mix.
Barbie Almalbis also re-recorded her single "Secrets" with former Barbie's Cradle bassist Rommel dela Cruz and producer-extraordinaire Angee Rozul. "Secrets", which premiered both on CNN Philippines and Jam 88.3, is a master class in pop songcraft, coming off as a swoon-worthy ode to motherhood — a recurring theme palpable in her recently released album, My New Heart.
For more updates on the upcoming concert, you can follow Aia, Barbie, Kitchie on Facebook. Tickets are available online via aiabarbiekitchie.com, or by calling the Music Museum at 02-721-6726. You can also reserve tickets through Gabi Na Naman Productions' Leah at 0917-878-9803 using this link.
This is a press release edited for posting.