An event for Filipino outdoor enthusiasts: Philippine Outdoor Expo
The Philippines has always been a great place if you like exploring the great outdoors. The country's many mountains have always enticed outdoorsy-type people; however, getting great equipment or discovering others who share the same passion can always be hard… until today.
Arcobaleno Philippines presents the first Philippine Outdoor Expo, happening at Circuit Makati this April 2017!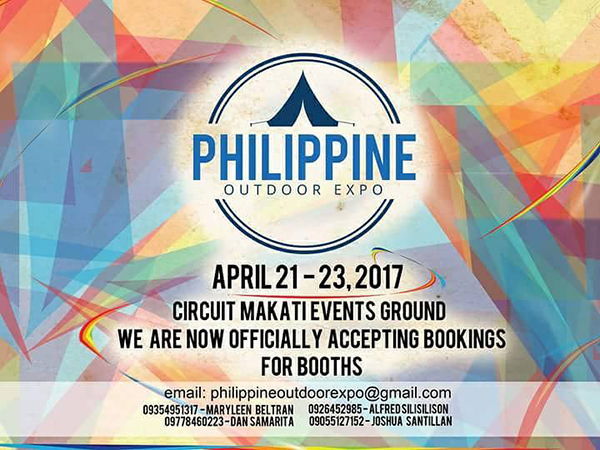 Acrobaleno Philippines will gather different companies and organizations to give you the best in outdoor activities, whether it be mountaineering, trekking, spelunking, etc. There will also be seat sales so you can get to where you want to go!
The Philippine Outdoor Expo will happen on April 21 – 23, 2017 at Circuit Makati, A.P. Reyes St., Brgy. Carmona, Makati City.
Interested in being an exhibitor? Get in touch with their team by sending an email to philippineoutdoorexpo@gmail.com, or visiting their Facebook page, Philippine Outdoor Expo.
All photos grabbed from Philippine Outdoor Expo.
Details:
Philippine Outdoor Expo
April 21 – 23, 2017
Circuit Makati, A.P. Reyes St., Brgy. Carmona, Makati City