Nihongo Fiesta 2017 in Manila
In pursuit of its objective of promoting cultural exchange through Japanese language education in the Philippines, the Japan Foundation Manila (JFM) launches Nihongo Fiesta 2017, which will be held at Shangri-La Plaza Mall on February 25.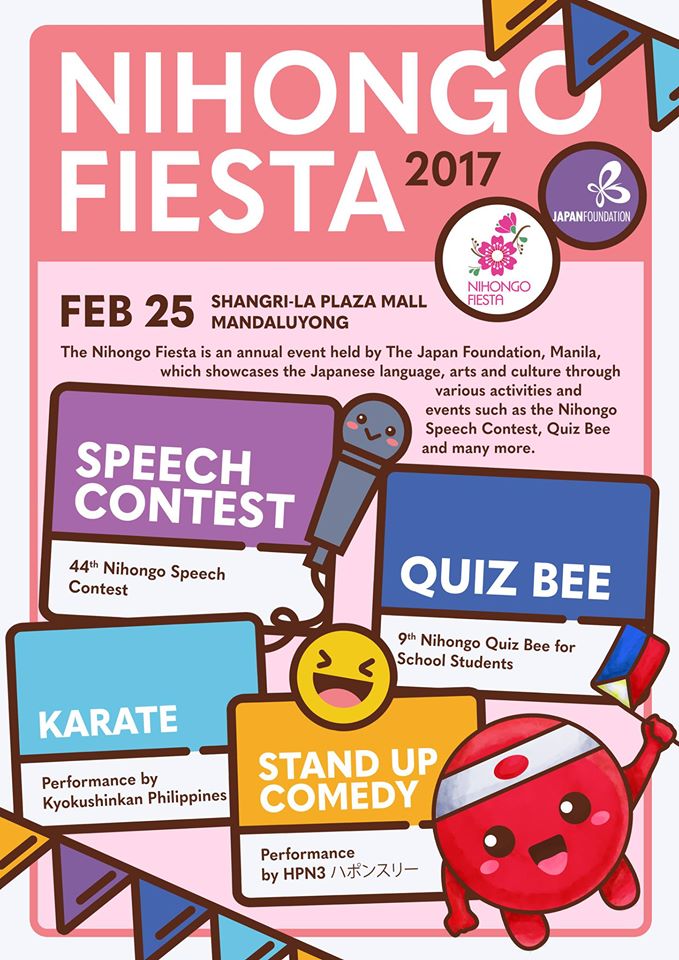 The 12th Nihongo Fiesta will also feature live performances, Nihongo quiz bee, film showing, and a lot more activities.
One of their major event is the Nihongo Speech Contest which they believe is an ideal platform for Filipino students and professionals to demonstrate linguistics skills through articulating an original composition written by themselves based on a theme or by choice. The winner will take part in an all-expense paid week-long study tour in Japan, and all qualifies contestants will receive consolation prizes.
Event details:
What: Nihongo Fiesta 2017
When: February 25, 2017
Where: Shangri-la Plaza Mall, Mandaluyong
Kindly contact Japan Foundation Manila for clarifications and further questions.
Address: 23/F Pacific Star Bldg., Makati Avenue, Makati City
Telephone No.:  811-61-55 to 58  and fax # 811-61-53;
E-mail: email@jfmo.org.ph
Website: www.jfmo.org.ph
Sources: allevents.in, The Japan Foundation Manila