Finally, It's Happening: Manila, Get Ready for Goo Goo Dolls LIVE!
There's good music, there are trends, and there are great rock n' roll bands… but not all can lay claim to having more-than-just-a-few gargantuan hit singles worldwide. It is rare that you find a group that is as consistently relevant and acoustically evolving in a time of cross-genre confusion and three-minute, sugar-coated and over-produced junk.
Thank God for the Goo Goo Dolls.
Responsible for some of the biggest, chart-topping singles in the 90s, like "Name" (1995, A Boy Named Goo); the humongous and now-historic "Iris" – which originally appeared on the City of Angels Movie Soundtrack, was nominated for three Grammy Awards (Record of the Year, Best Pop Performance, and Song of The Year), and spent a whopping 18 weeks at number one on Billboard's Hot 100 Airplay chart; "Black Balloon" and "Slide", off of 1998's four-time platinum release Dizzy Up The Girl; all the way to recent hits like "Before It's Too Late" (from the first Transformers movie OST at the start of the millennium), it's clear to see why the band – led by frontman/main songwriter/guitarist John Rzeznik – is easily hailed as one of the most successful hit-making machines the world has ever seen and heard.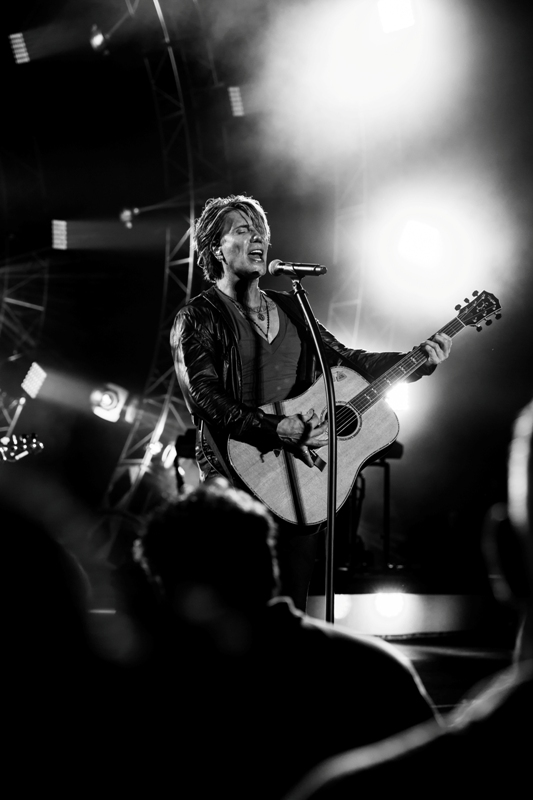 The band's connection with its legion of Filipino fans is a strong one: Rzeznik – along with longtime bassist-collaborator Robby Takac and the rest of the band – definitely has a strong penchant for indelible melodies, intimate and heartfelt lyricism, and a generally uplifting and anthemic vibe from their music throughout the decades. Celebrating their 30th anniversary as a group in 2016, they – though earning a reputation for producing some of the biggest singles for some of the biggest films in history – refuse to be boxed-in with a singular sound and approach to music. This was evident early on in their career, incorporating clever guitar tunings, sing-along-melodies and odd-timed rhythm patterns to their music.
Throughout the millennium, they've consistently released new music, like Gutterflower (2002), Let Love In (2006), Something For The Rest of Us (2010), Magnetic (2013), and their most recent 2016 opus Boxes, which finds Rzeznik and the band collaborating with various songwriters, producing some of their most personal, introspective work to date, fueled by the single "So Alive."
"I want people to listen [to the music] hard. I want them to read the lyrics. I want them to be ecstatic and I want them to cry. I want them, at the end of it, to feel satisfied," says Rzeznik of their latest album, and in more ways than one, their collected body of work. "I want them to take a little piece of it for themselves and own it. Make it their own."
Fans in Manila are all too happy to oblige. They are already excited that the Goo Goo Dolls are bringing their music to Manila – definitely a long-overdue musical spectacle. Expect the roar of thousands of Filipino fans singing along to their personal favorites to be beautifully deafening.
Goo Goo Dolls: Live in Manila is slated to happen on February 11, 2017 at the famed Smart Araneta Coliseum. TicketNet has recently announced the sale of tickets (www.ticketnetonline.ph), with prices listed as follows:
VIP – P7,000
PATRON – P6,000
LOWER BOX – P5,000
UPPER BOX – P3,000
General Admission seating – P1,200
Interested parties can also call 02-911-5555 or follow them on Facebook (TicketNet).
The show is produced by Random Minds Inc., the same company that has consistently brought over top-caliber acts ranging from legacy artists – The Jets, Wilson Phillips, Marky Ramone's Blitzkrieg, Sugar Ray, Smash Mouth and Gin Blossoms – to the finest and most-happening new music from diverse artists like The XX, The National, Warpaint, Mobb Deep, Demi Lovato, Youth Lagoon and everyone in between – Mogwai, The Piano Guys, Skratch Bastid – and even the biggest local Filipino acts with their recent production of Tugtog Pinoy.
For more information on Random Minds Inc. and details of both Goo Goo Dolls: Live in Manila and upcoming shows, be sure to log-on to (and like) their Facebook page, RandomMinds, and follow them on Instagram and Twitter via @RandomMindsPH.