Start your 2017 right: 7-Eleven presents RUN 2017
Ring in the New Year by achieving your fitness goals as 7-Eleven presents RUN 2017, happening on February 5 at Filinvest City, Alabang!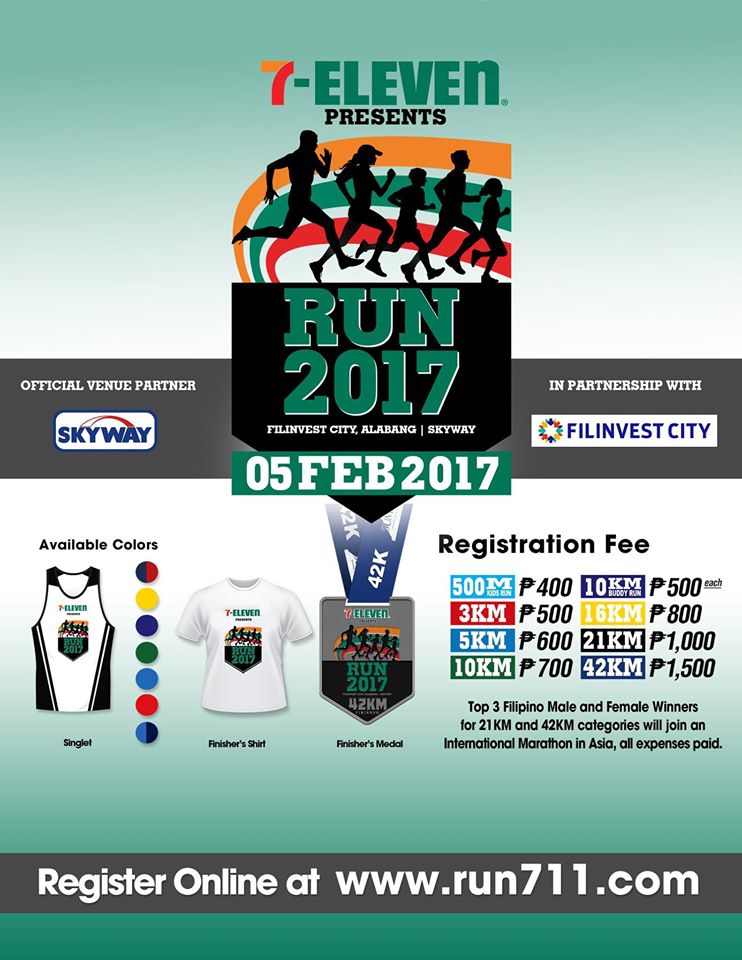 Image grabbed from 7-Eleven Run Series on Facebook
After successful runs from 2013 to 2016, Run 2017 promises to be bigger and more exciting, with runners going through designated courses in both Filinvest City and Skyway. Race categories range from the 500-meter Kids Run all the way to the 42-kilometer run.
Run 2017 is a great way to challenge yourself this 2017 with its unique system of SELF-SELECTED WAVE STARTS. Instead of plugging in racers of different levels, you are given the choice of selecting which wave you'll join so you can run with people of the same level.
Medals and cash prizes will be handed out to top 3 finishers for each category:

Image grabbed from run711.com
7-Eleven will also sponsor the top three Filipino male and female athletes in the 21-kilometer and the 42-kilometer run to join an international marathon in Asia. Get your buddies in your organization or company to run with you will and receive a special trophy!
Run 2017 will happen on February 5, 2017 at Filinvest City, Alabang, Muntinlupa City. Assembly area is along Bridgeway Avenue and Spectrum Midway. Wave start times are as follows:
Image grabbed from run711.com
Register now at run711.com!
Details:
Run 2017
February 5, 2017 (Earliest gun start is on Feb. 4 at 11:00 pm)
Bridgeway Ave. and Spectrum Midway, Filinvest City, Alabang, Muntinlupa City
Registration: run711.com