PETA'S A Game of Trolls
With Philippine Educational Theater Association's (PETA) 50th anniversary next year comes A Game of Trolls, a "martial law musical" which will be running on April 1 and 2, 2017 at the PETA Theater Center in Quezon City. This musical is done in the partnership of PETA, National Historical Commission of the Philippines (NHCP) and supported by the Bantayog ng mga Bayani Foundation.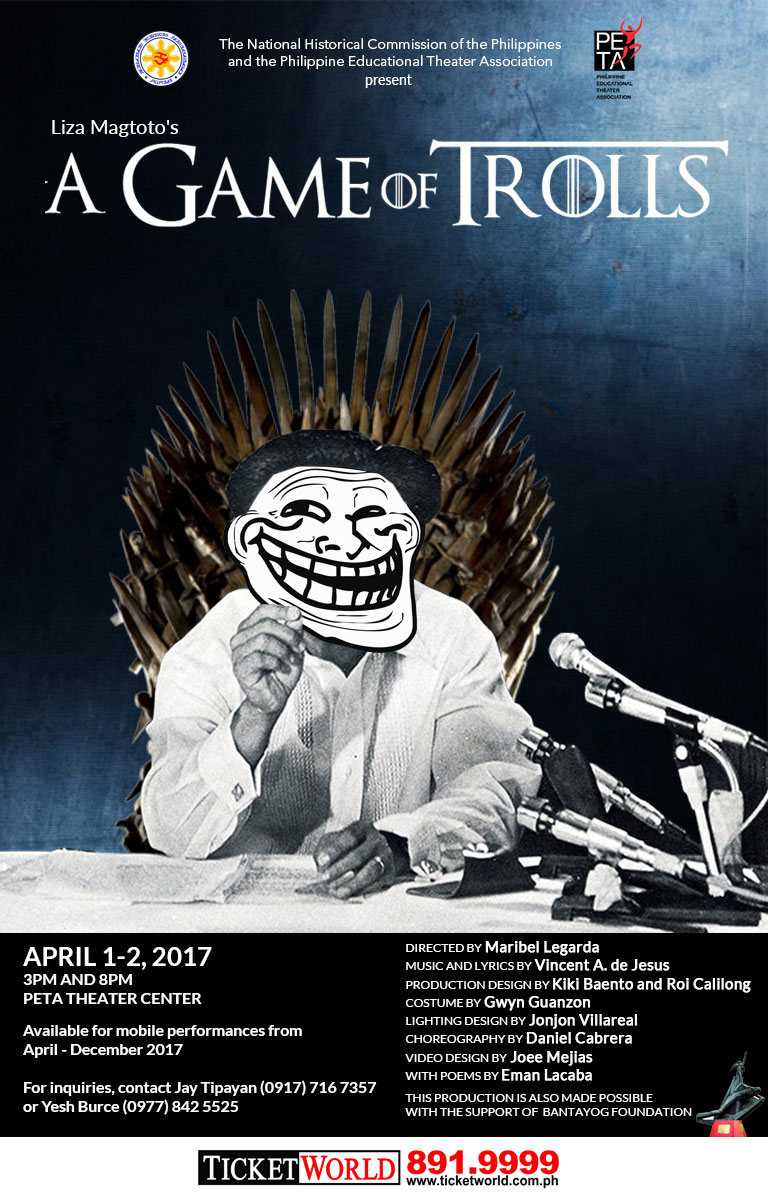 Set in the Martial law Era, A Game of Trolls centers Hector, a paid internet troll whose job is to bully anyone who expresses their opposition on the Marcos regime. This musical does not only tell the story of Hector, but it also explores the experiences and the horrors faced by the victims of Martial Law.
Directed by Maribel Legarda and penned by Liza Magtoto, both of who were notable to be the persons behind Rak of Aegis, this musical aims not to promote anger among its audience, but to promote understanding and empathy to those who were present during that era.
Magtoto also said that A Game of Trolls is a call to action for the youth to "look beyond the memes and the online propaganda that had become so accessible because of social media, to encourage them to do their own research, to think critically, and to act with responsibility."
According to PETA Executive Director Beng Santos-Cabangon, this musical is one of the ways PETA is trying to continue its mission of fulfilling its commitment to the people. "As artists, we in PETA remain steadfast in our mission to use the arts to reflect people's stories and examine our history, so we can find meaning in chaos, make sense of our realities, and have vision amid doubt and cycnicism," she added.
For more information and ticket reservations, you may visit PETA's Facebook page.
Source: ABS-CBN News, TicketWorld, Theater Fans Manila
Details:
What: A Game of Trolls
When: April 1 and 2, 2017, 3:00PM and 8:00PM
Where: PETA Theater, No. 5 Eymard Drive, New Manila, Quezon City
Tickets: Available at TicketWorld Online
VIP: P938.72
Orchestra Center: P938.72
Orchestra Side: P586.70
Balcony Center: P938.72
Balcony Side: P586.70