New Year's Eve Events: Countdown to 2017
New Year's Eve in the Philippines is usually celebrated by a multitude of traditions and superstitions. There would be people in the streets, lighting up firecrackers to drive away the bad luck. Some would be in their best polka dotted clothes, and there will be some – kids and adults alike – who'd be jumping as high as they could as soon as the clock strikes 12, marking the start of the new year.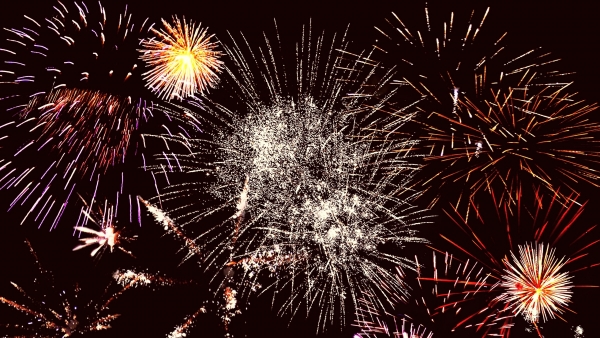 Photo taken by Lumpi. 
While there may be some people who prefers spending this holiday at home, there are also some who'd rather go to New Year's countdown events with their friends and loved ones to enjoy the performances from various artists and to see the fireworks that color the dark sky at midnight.
If you're one of the latter, or just wants to experience a different New Year's Eve but don't know where to go, Primer PH gives you some of the best events happening around the metro on this day:
PASAY CITY:
Resorts World Manila's Grand Countdown to 2017
Now on its second year, RW Manila will be giving you a magical and spellbinding new year's eve perfect for families. The Countdown will be featuring performances from Lea Salonga and Bamboo – two of the most prominent artists in the country – as the crowd welcomes the year with a joyful start.
For more information on the event and the tickets, you may visit their website.
Sofitel Manila's Midnight in Paris
Welcome 2017 in a Parisiian fashion with Sofitel's soiree-like event. Visitors will enjoy great food and colourful fireworks display as they count down to the new year. Sofitel also has a New Year's Eve party at Le Bar and for P500, visitors may get a complimentary New Year's Eve cocktail.
For reservations, you may visit these links: Midnight in Paris // New Year's Eve After Party at Le Bar
City of Dreams' Let's Ring in 2017
Welcome the year with festive meals, toasts, and performances by Freestyle, Jex & Abby, Resoul, Silk, and Trifecta. For only P1,388, guest may enjoy the new year's festivities inclusive of free-flowing iced tea, soda, coffee, and tea with festive food buffet.
For more information, you may call City of Dreams at 691-1234 ext 1162.
Chaos Night Club's CANDYLAND
Jumpstart 2017 in Chaos Night Club's candyland-themed event, featuring the beats of international EDM DJ Duo Stadium X, known for unique and energetic sound "Xsound." Chaos' resident DJs will also be present in the event, spinning to the soundtrack of 2016's Top 40 to keep the crowd hyped up and excited for the coming year. Door charge is at P1,000 which includes a free drink.
For more information and table reservations, you may call them at 09178863678 or email them at chaostablereservations@cod-manila.com.
BONIFACIO GLOBAL CITY:
New Year's Eve at The Palace
Celebrate the New Year with BL3R in The Palace Pool Club's New Year's Eve Ball. Aside from the beats by the performers, Pool Club will also be holding a grand fireworks event at 12mn and at 2am. Tickets are at P800. Reservations for VIP tables may be done by contacting the place at 09176898888.
Valkyrie will also be holding a New Year's Eve party sponsored by Grab, Johnnie Walker, Magic 89.9, ETC, and Jack TV. Tickets may be purchased here, and VIP tables may be reserved by contacting 09176808888.
Light Up 2017: New Year Countdown Party
Hop on to the most lit New Year Party in the Metro with F1 Hotel's Light Up 2017. In partnership with the world's No. 1 tequila, Jose Cuervo, partygoers will enjoy a selection of festive fares, unlimited booze, and good music from the featured DJs as they await for midnight.
Tickets are at P1,888 per person with inclusive of unlimited drinks from 10pm to 1am.
Doors open at 9:30pm.
For more information, please call (02) 908-7888.
New Year's Eve Dinner and After Party
Celebrate the New Year with Sugar Factory's Dinner on December 31, 2016. Sugar Factory will also be having an after party from 1AM onwards, featuring music from Roman Mojica and Kevin Cruz. Admission for the event is at P1,500 per person, consumable for food and drinks.
Anyone who would be wishing to reserve a table and voice their inquiries by calling them at 958-5175.
You may also visit their Facebook page for more information.
Rocket Room's NYE Party: IT CAME FROM OUTERSPACE
Blasting you into 2017 is Rocket Room's outerspace-themed event. Everyone's encouraged to dress in their best glow-in-the-dark fashion as Rocket Room will also be featuring "biohazard" beats from Migs F*cking A, Platon, Marvelous, and Jay Ru. Hosted by Tolo Maravillas, this NYE Event will be having a BUY 1 TAKE 1 promo on Johnny Walker, Jim Beam, and Cuervo Bottles.
For more information, you may visit their Facebook page.
MAKATI CITY:
Dusit Thani Manila's New Year's Eve Party Countdown to 2017
Celebrate the grandest party at the poolside and dance to the beat of DJ Euric and Roda King on December 31, 2016. Tickets are priced at P1,800 and visitors may enjoy unlimited standard spirits, beer, and wine from 8pm to midnight. Guests may also get access to the party when they avail the NYE dinner buffet and set menus in Benjarong and Umu.
Reservations may be done by calling 238-8888 local 8841 and 8430.
QUEZON CITY:
Eastwood City's New Year Countdown
Singer-songwriter Phoebe Ryan, famous for her songs "All We Know" and "Mine" will be gracing Eastwood's New Year Countdown stage to guests who will be waiting for the clock to strike midnight. She will be performing alongside local artists like Rachelle Ann Go, Darren Espanto, Quest, Autotelic, Sud, and Up Dharma Down.
For more information, you may visit Eastwood City's Facebook page.
ALABANG:
Crimson Hotel's Great Gatsby Countdown to 2017
Travel back and time and experience a Great Gatsby event like no other. Dressed in their best 20s fashion, visitors will enjoy live music, good food, party poppers, and 2,017 balloons drop as 2017 begins. Rates:
Crimson Grand Ballroom (9pm-2017): P2,038++ and P3,038++ (with free flowing bubble beverage)
Cafe Eight (6pm-2017): P1,838++ and P2,838++ (with unlimited beer, bubbly, wine, soda, juices)
Deck Bar (10pm-2017): P409++ (with one free drink)
MARIKINA CITY
Don't miss the free revelry in Riverbanks Center's Year-end Grand Pyromusical Show at the scenic Ampitheater. As you await for the much-awaited pyromusical display, celebrate the end of the year with Janella Salvador, TOP One Project, Dynamic Acrobat, Dance Focus, and two of Voice Academy of the Philippines' talents. They will also be holding bazaars for people who still want to do some last-minute shopping for the New Year.
For more information, visit their website or their Facebook page.
Source: Flair Candy, The Fort City