Dr. Nicanor Tiongson's 'Mabining Mandirigma'
Relive the story of the mind of the Filipino revolution in the steampunk musical Mabining Mandirigma. Running from December 2 to 18 at the Tanghalang Aurelio Tolentino in the Cultural Center of the Philippines, people will surely get to know Apolinario Mabini as someone with an uncommon vision and and a warrior's spirit, despite his weaknesses.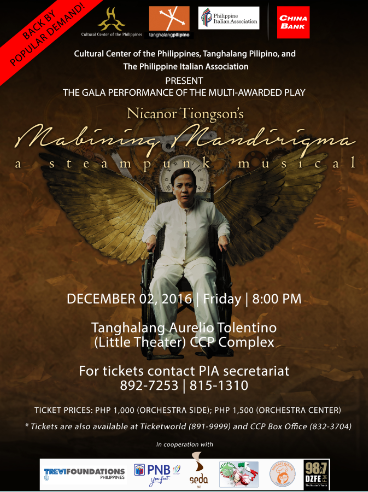 Mabining Mandirigma features Daphne Buencamino as Apolinario Mabini, and is directed by Chris Millardo. 
Mabining Mandirigma is based on a narrative written by Dr. Nicanor Tiongson. It highlights the life of Filipino here, Apolinario Mabini, and how he struggled to unite his countrymen – amidst the differences in class and personal ambitions – to act as citizens of one nation.
Director Chris Millardo made sure to inject a more modern element in the production for it to appeal to a much younger and contemporary crowd. It is also the first time that a woman is portraying the role of Apolinario Mabini. Millardo said that they decided to cast Daphne Buencamino and to go for the non-traditional way of casting so her voice, as Mabini, will "rise above the others."
With Mabining Mandirigma, the production hopes that the audience will get to know Apolinario Mabini in a different light – not just the hero from the history books, but also a human who also has weaknesses and frustrations.
For tickets, you may visit Ticketworld.
Source: Click the City
Details:
What: Dr. Nicanor Tiongson's Mabining Mandirigma
When: December 2 to 18, 2016
Where: Tanghalang Aurelio Tolentino, Cultural Center of the Philippines
Tickets:
Orchestra Center: P1,545
Orchestra Sides and Back: P1,030