Araneta Center presents 'Le Grand Cirque'
Witness the greatest show in town as Araneta Center presents the first-ever "Le Grand Cirque" on December 25, 2016 to January 3, 2017 at Smart Araneta Coliseum in Cubao, Quezon City.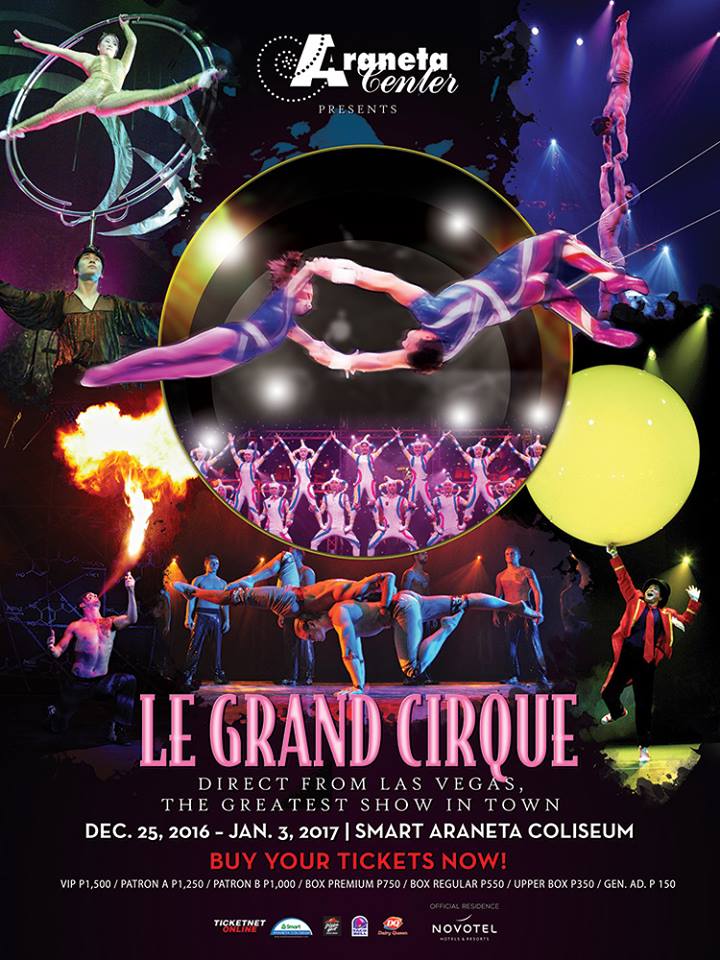 Image grabbed from aranetagroup.com
"Le Grand Cirque" is a big-scale circus production, direct from Las Vegas, Nevada, that features a group of world-class performers and artists from Europe, Canada, China and the United Kingdom.
This amazing show will feature a series of jaw-dropping routines like a Russian swing, where acrobats do impressive high jumps as they are tossed from one large floor-mounted swing to another.
Audience can also look forward to see various acts from fire-breathers, hoopers, jugglers, and strongmen along with clowns who will bounce along the sides of the stage.
Don't miss this mesmerizing display of impossible feats of agility and strength at "Le Grand Cirque" this Christmas with your family and friends. Buy your tickets now via ticketnetonline.ph.
For more information, visit ticketnetonline.ph or call 02-911-5555.
Details:
What: Araneta Center presents 'Le Grand Cirque'
When: December 25, 2016-January 3, 2017
Where: Smart Araneta Coliseum, Araneta Center Cubao, Quezon City
Ticket Information: ticketnetonline.ph
Contact Number: 02-911-5555
E-mail: ticketnet@ticketnet.com.ph
Source: aranetagroup.com, ticketnetonline.ph